CR1658 cell battery holder
Product Introduction
CR1658 cell battery holder , Lithium Coin Cell Battery Holders.
Thru Hole Mount (THM) & Surface Mount (SMT) available for 16X58mm button cell.
This holder is manufactured from UL rated 94V-0 materials. Contacts made of high quality spring stainless steel to assure reliable connections and allow contact resistance. Each contact is clearly marked with its polarity to assure proper battery insertion.
Lightweight and rugged, these PCB coin cell holders offer uniquely designed notched battery slot that assures quick and easy insertion and replacement of all major battery manufacturers' lithium coin cells.
Product Parameter (Specification)
| | |
| --- | --- |
| Product name | CR1658 cell battery holder |
| Type | Round battery holder |
| Model No.: | KY-10030-1-1 |
| Material: | Kopa+ Spring stainless steel 302 Gold flash plated |
| Size: | 29.39*12.07mm |
| Rating | 3.0V |
| Color | Grey |
| Number of cells | 1 cell |
| Port | Shenzhen , Guangzhou |
| MOQ | 1000pcs |
Product Feature And Application
This CR1658 cell battery holderis low profile for high density packaging.
Reliable spring tension contacts assure low contact resistance.
Retains battery securely to withstand shock and vibration.
Rugged construction, light weight.
Compatible with vacuum and mechanical pick & place systems.
Base material UL rated 94V-0 Impervious to most industrial solvents.
Clearly marked polarities to help guard against improper insertion.
Product Details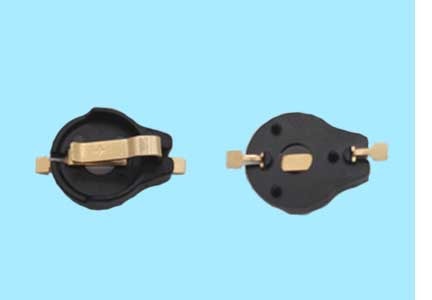 CR1658 cell battery holder detail:
Battery Type: Round battery holder
Place of Origin: Dongguan, China
Color: Grey
Material:
Base: Kopa 66.30% Glass filled , Grey ;
Contacts: 302 temper stainless steel Gold flash plated .
Product name: CR1658 cell battery holder
Style: Holder(open)
Mounting Type: Custom
Size: 29.39*12.07mm
Nominal Voltage: 3.0V
CR1658 cell battery holder Ideally Suited For :
Duracell, Eveready, Panasonic, Ray-O-Vac, Sanyo, Varta, Toshiba, Seiko and other major battery manufacturers.
Computer memory, power transfer and back-up systems.
Video and telecommunications power back-up.
Preprogrammed video and electronic games.
Microprocessors and Microcomputer memory hold.
Notebook and lap top applications.
Emergency power systems.
Industrial and commercial security and alarm systems.
Communications power sources.
Miniaturized battery power devices.
Product Qualification
All of our CR1658 cell battery holder with ISO9001, ROHS, Dun & Bradstreet certifications.