---
Metal Stamping Parts Manufacturer
Metal stamping is a cold-forming process that utilizes dies and stamping presses to transform sheet metal into different shapes. A flat sheet metal (often referred to as a blank) is fed into stamping presses, which use specialized tools and dies to form the sheet metal into a new shape. Manufacturers offering stamping services place the material to be stamped between die sections, using pressure to shape and cut the material into the final shape required for the product or component.
KENENG is a stamping parts manufacturer in china, and can provide professional and convenient metal stamping services with its rich manufacturing experience and manufacturing equipment. In addition, we also provide services such as CNC machining and injection molding.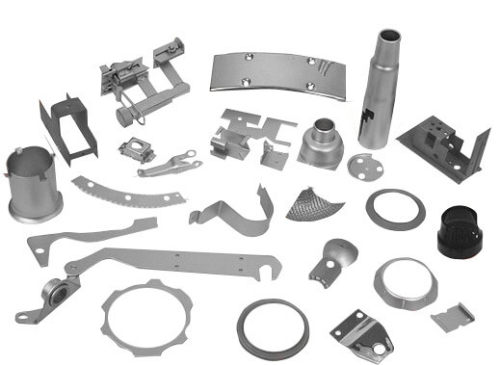 Our Metal Stamping Parts Advantages
KENENG can design products and molds according to customers'samples or drawings,our stamping parts tolerance meet with ±0.01mm,we can also provide wire EDM services, using high-speed, medium-speed, and low-speed WEDM to make samples and small batches of products to save molding costs and time.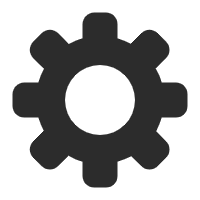 Customized service
Our technicians are able to design products and molds according to customers' samples or drawings.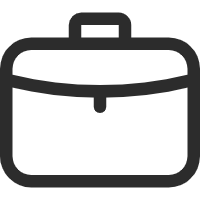 Rich experience
17 years export experience, have served for more than 180 countries and regions customers,we can better understand and provide perfect solution for customers.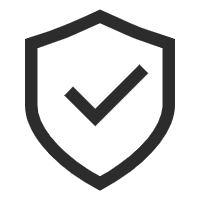 High-quality products
KENENG verfied by IATF 16949, ISO 9001-2015, Dun & Bradstreet, and owned Patents. In accordance with AQL065 standard inspection,product yield rate up to 99.83%.
Various process types
KENENG can provide various processes such as washing, grinding, drilling, slow wire walking, computer gong, spark machine, and so on.
Our metal stamping china equipment
The Kinds of Metal Stamping Parts Materials We Can Provide
The types of materials we provide include titanium alloy, nickel, red bronze, beryllium copper, phosphor copper, brass, copper-nickel alloy, stainless steel, aluminum, galvanized plate, electrolytic plate, cold-rolled steel sheet, spring steel, etc.
Note: The type of each material is different, the specification or hardness is also different, and the elasticity after molding will change.
Machining Precision of Metal Stamping Parts
| | | |
| --- | --- | --- |
| Machinable size : | 0.05mm~8.0mm. | Note: The thickness tolerance range is different according to the type of material and thickness. |
| Maximum machining size: | 800mmX1000mm. | Note: The maximum processing size will be changed due to material thickness and product structure. |
| Machining precision: | minimum accuracy 0.005mm. | Note: The precision of the product size is determined by the precision of the mold, and the precision of the product determines the cost of the mold. |
| Minimum hole diameter: | 0.3mm. | Note: Material thickness and hardness will affect the range of minimum machining hole diameter. |
Stamping Die Terms
| | |
| --- | --- |
| Technological Types: | Washing, Grinding, Drilling, Slow Walking Wire, Computer Gong, Spark Machine |
| The thickness of punchable material: | 0.05mm-5.0mm |
| Die life: | more than 10000000 times |
| Opening time | 7-30 days |
| Internal parts (punch, knife-edge): | SKH-9/tungsten steel |
| Die Specification: | Die Length up to 1500 MM |
| Mould accuracy: | 0.02mm |
| Stamping speed: | 800 times per minute |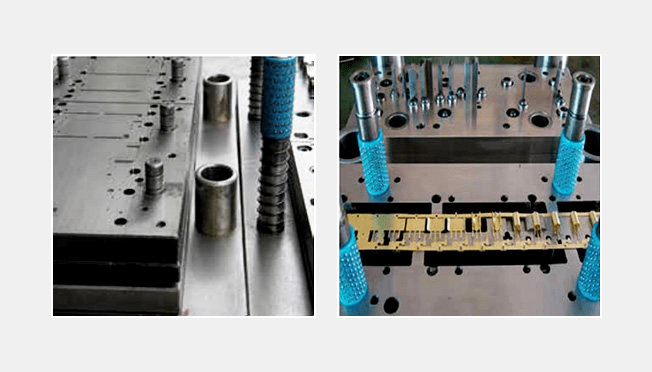 Metal Stamping Parts Display

Shielding Cover by Metal Stamping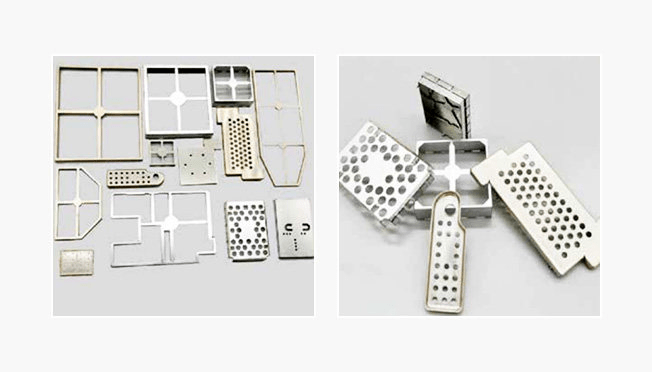 We have 150 kinds of existing mold dimensions for the shielding case. The shielding case has good welding and flatness can ensure the 0.02mm.
Ultrasound cleaning, no distortion, no yellowing, automatic packaging after full inspection.
Vertical and precise angle, convex hull (buckle)after forming, close and seamless combination of frame and cover.
KENENG can co-developed the products with customers. And we save the developing cost for customers cause of the interoperability of samplejig and mold.
Shielding Cover Sample Display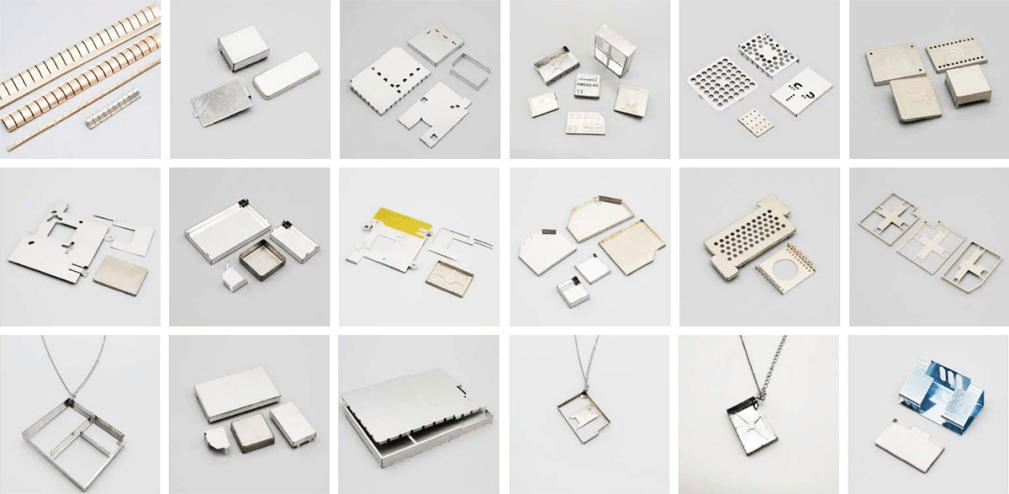 Precision Connector by Metal Stamping
Because of the outstanding mold technology, the terminal of 0.05 mm thin material can reach the precision degree of 0.02mm.
The plating technology is various including continuous plating, partial plating, and spot plating.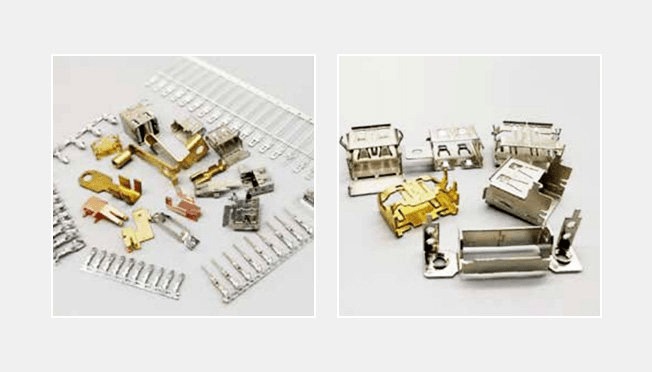 Precision Connector Sample Display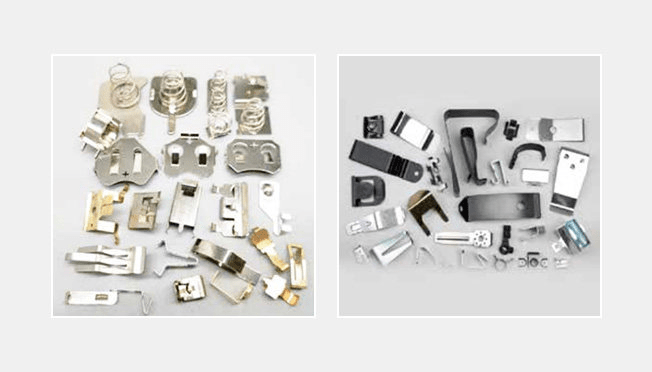 Precision Metal Clips by Metal Stamping
We use imported materials, the dimensions of the products are stable, and the products after heat treatment have good elasticity and strong fatigue resistance.
The plated product has good contact, stable performance, and more beautiful surface.
Precision Metal Clips Sample Display

Precision Metal Brackets by Metal Stamping
The precision metal bracket involves more than 20 kinds of imported raw materials and can realize surface finishing processes such as painting, electroplating, and phosphating.
The product has smooth internal and external burrs, lightweight, has good rigidity, high strength, oxidation resistance, corrosion resistance, and uniform size of the same module.
Product consistency and interchangeability are good. And it is widely used in smart cars, smart homes, sensors, medical and other industries.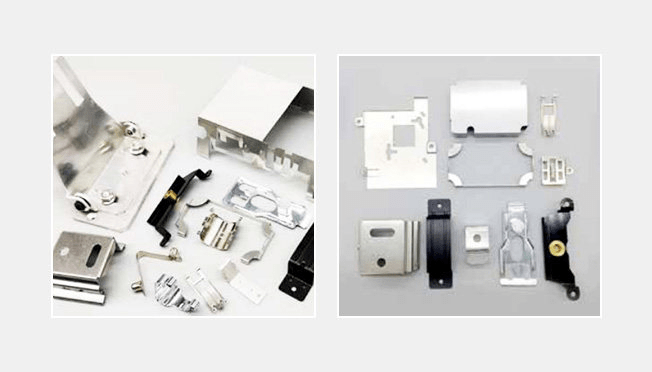 Precision Metal Brackets Sample Display

Precision Stamping Dies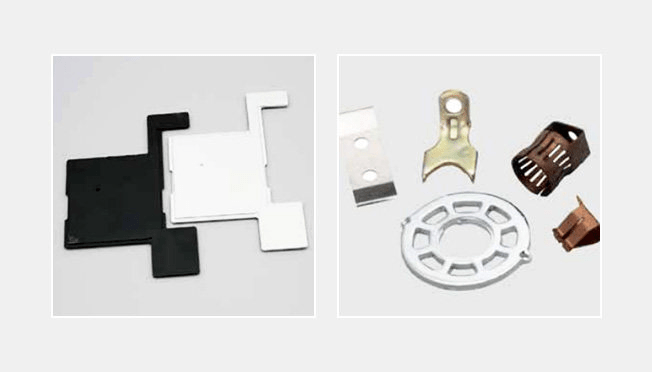 Precision stamping dies are widely used in consumer electronics, automotive electronics, medical electronics, communications industry, instrumentation, computers, aerospace equipment, and other fields.
We use more than 100 materials from different countries, brands, and types, including copper, iron and aluminum, steel, and more.
Using high-speed stamping, the product has quality assurance.
The product is light, the surface is bright without burr, the size is accurate, and there is no defect.
Precision Stamping Dies Sample Display

Services and Products KENENG Provide
KENENG can provide a variety of customized services such as CNC machining, metal stamping, and injection molding. We specialize in processing products of various materials and solving complex processing parts.
We mainly produce batches of screws, springs, and other stamping parts and lathe parts, batches of battery boxes, button battery holders, battery buttons, cells, and battery parts, as well as provide inject molding products, mold design, and processing services.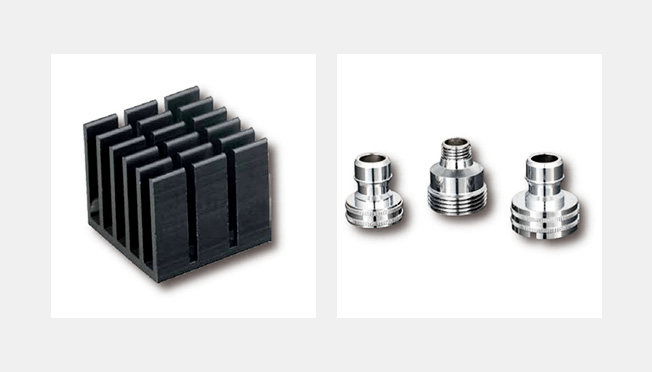 Part Samples Display

Which Products Can be Processed Using Metal Stamping Service?
Related News
Other services about KENENG
Injection molding is a manufacturing process that produces parts through injection molding machines and molds. Injection molding uses plastic molding molds to make thermoplastics or thermosets into plastic products of…
About CNC Machining CNC machining refers to a machining method that processes parts on a CNC machine and uses digital information to control the displacement of parts and tools. KENENG…
Process for Customizing Products and Services


FAQ of Metal Stamping