Nuts
Custom Nuts Supplier and Manufacturer
Nuts are fasteners with threaded holes. Generally, nuts are used with mating bolts to hold multiple parts together. The two parts are held together by the friction of the threads (with a slight elastic deformation), a slight stretching of the bolts, and compression of the parts to be held together.
KENENG is a custom nut supplier specializing in the production and distribution of wholesale hardware products. We are committed to nuts products, with excellent surface finish quality, durable and fast delivery of stock products. And seek partners around the world, laying a solid foundation for the advantages of the product cost, technology, and complete supporting facilities.
We can provide custom nuts according to your drawings. We have a variety of materials to choose from, including carbon steel, alloy steel, stainless steel, aluminum, titanium, Inconel, etc. We also have the ability to produce tens of thousands of large or small batches. All of our fastener products are built to last. We are also committed to providing our customers with the highest quality products.
Custom Nuts
KENENG can also provide nut customization service according to customer's drawings.
1. Customize the shape and size according to the drawing.
2. Customize different plating specifications for nuts: zinc in different colors, black oxide, black anodizing, waxing, passivation, etc.
3. Customize the material of the nut: including carbon steel (10B21, 10B33, Q235, ML10, 35#, 45#), stainless steel (SUS201, 301, 304, 316, 316L, 310, 410, 420, A2, A4) , duplex stainless steel), alloy (B7, B7M, 35CrMo, 40CrMo, 42CrMo, ML20MnTiB, etc.), copper/brass (H62, H65, H68, etc.), titanium alloy, aluminum alloy, Monel, Inconel, Hastelloy, etc.
4. Customize the strength of the nut.
5. Different standards can be met according to your needs: ASTM/ANSI, GB, DIN, ISO, JIS, etc.
Due to the professionalism and particularity of nuts, there are many varieties and specifications, and users have different requirements. It can be customized according to the properties and functions required by the customer. Please contact us for details.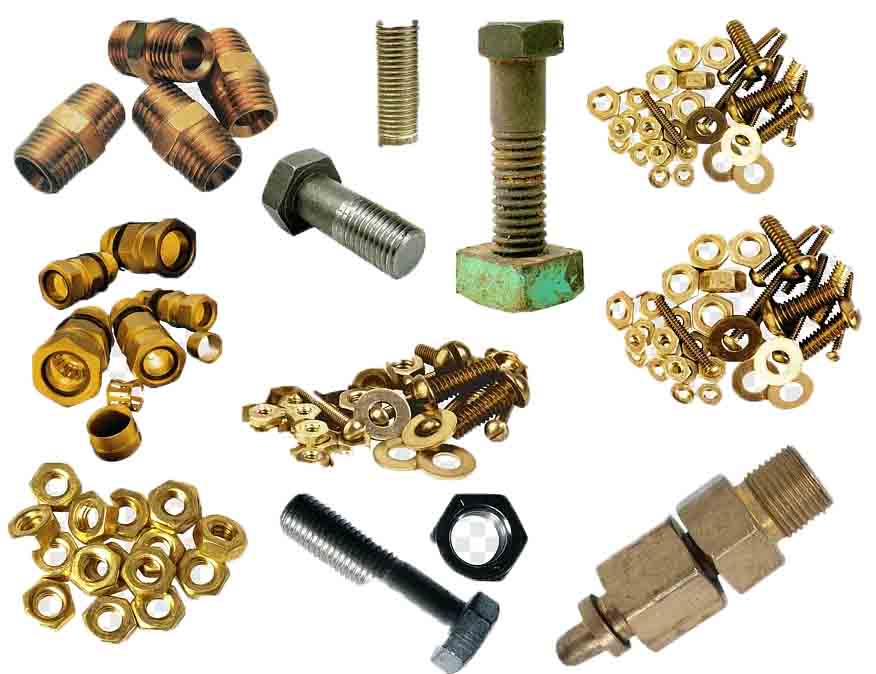 If you have any needs, please contact KENENG, we will provide you with the best quality service.
Case Products of Nuts
Types Available in Our Inventory Include:
We can supply many types of nuts, including different sizes, shapes, materials, and thread styles. While your choice of nuts is somewhat limited by your choices of bolts, you should still choose the nut head shape and material that best suit your application. Types available in our inventory include:
Coupling Nuts: A coupling nut is a long cylindrical nut used to connect two external threads. This assembly can be used to increase the length of the installation.
Flange Nuts: Similar to flange bolts, flange nuts have round flanges that act as external gaskets and allow for more even load distribution.
Hex Nuts: Hex nuts are hexagonal. These nuts are versatile but require a wrench to install. The types of hex nuts we offer include finished hex, semi-finished hex, hex flange, hex plug, heavy hex, and slotted hex.
Lock Nuts: Lock nuts are available in a variety of shapes and are used to secure other nuts and prevent them from loosening. Types of lock nuts include full metal lock nuts with top or side locking, serrated hex flanges, and nylon inserts.
Slotted Nuts: Slotted nuts are designed and constructed to form a locking mechanism with a cotter pin or fuse.
Square Nuts: A square nut is characterized by a square shape. This head shape increases the fastener's surface area and friction, reducing the risk of loosening.
Wheel Nuts: Wheel nuts are a large category of nuts used in automotive wheel applications.
Other Nut Types: Other nut types we can custom manufacture include Cap, Castle, Keps, Thumb, Wing, and so on.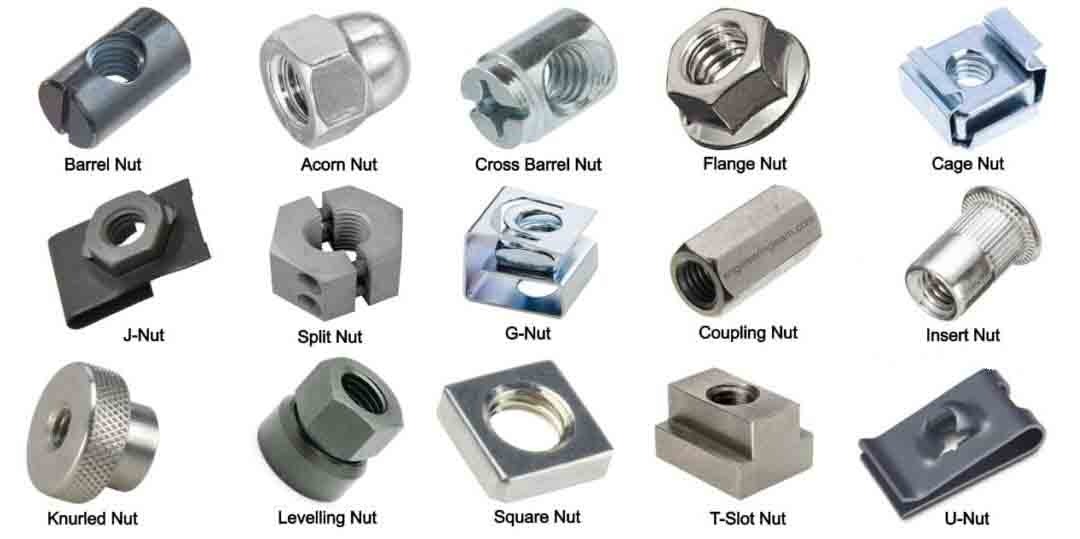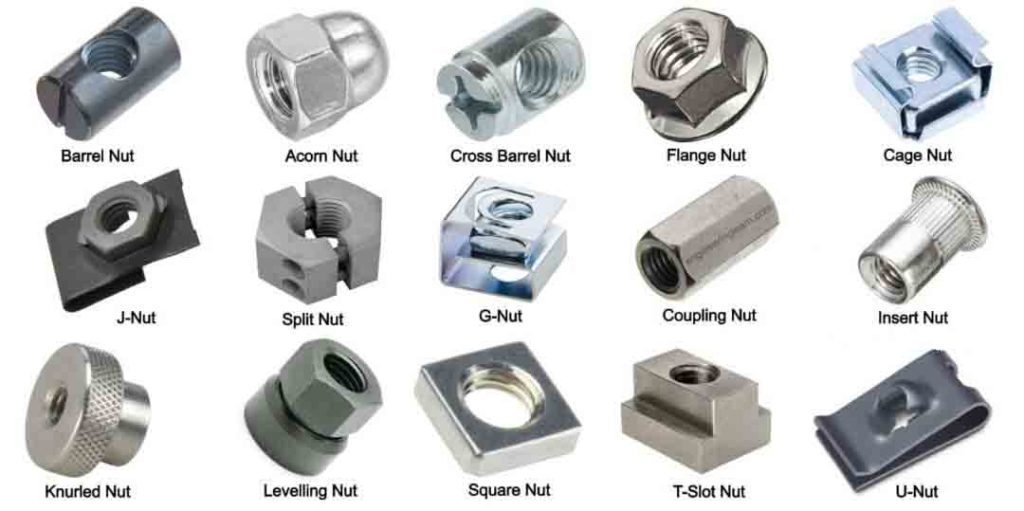 Types of customization you can choose from
Materials We Can Use on Nuts

Regard Nut Grade:
The performance grade of nuts for steel structure connection is divided into more than 10 grades such as 3.6, 4.6, 4.8, 5.6, 6.8, 8.8, 9.8, 10.9, 12.9, etc. Among them, nuts of grade 8.8 and above are made of low-carbon alloy steel or medium-carbon steel and are heat-treated (quenching, tempering), commonly known as high-strength nuts, the rest are commonly known as ordinary nuts. The nut performance grade designation consists of two parts of numbers, which respectively represent the nominal tensile strength value and yield ratio of the nut material.
For example, for a nut of property class 4.6, the meaning is:
1. The nominal tensile strength of the nut material reaches 400MPa.
2. The yield-strength ratio of the nut material is 0.6.
3. The nominal yield strength of the nut material is 400×0.6=240MPa.
High-strength nuts with performance class 10.9, after heat treatment, can reach:
1. The nominal tensile strength of the nut material reaches 1000MPa.
2. The yield-strength ratio of the nut material is 0.9.
3. The nominal yield strength of the nut material reaches 1000×0.9=900MPa. The meaning of the nut performance grade is the international standard. The performance of the nut of the same performance grade, regardless of the difference in material and origin, is the same, and only selected in the design. performance level.
Strength grade The so-called 8.8 and 10.9 grades refer to the nut's shear stress grade of 8.8GPa and 10.9Gpa 8.8 Nominal tensile strength 800N/MM2 Nominal yield strength 640N/MM2 The general nut is expressed by "X.Y", X.Y 100=tensile strength of this nut, X100(Y/10)=yield strength of this nut (because according to the regulations: yield strength/tensile strength=Y/10)   
Such as 4.8 grade, the tensile strength of this nut is 400MPa, and the yield strength is: 4008/10=320MPa
In addition: stainless steel nuts are usually marked as A4-70, A2-70. The grades of stainless steel nuts are divided into 45, 50, 60, 70, 80, and the materials are mainly divided into austenite A1, A2, A4, martensite and iron. Element body C1, C2, C4, its representation method such as A2-70, "–" before and after respectively indicate the nut material and strength grade: "A2-70" is the performance mark of stainless steel nuts, screws, studs, and nuts, "–" "A2" before "indicates the material group, that is, the second group of austenitic steel A2, the number part "70" after "-" indicates the performance grade of the product, and the number is 1/10 of the nominal tensile strength, that is, the performance tensile strength of this product is 700 N/mm.
Related Products
Nuts Manufacturer in China:
KENENG has a complete production line and professionals for producing nuts. We have established long-term and stable cooperative relations with customers, with a complete range of products and reasonable prices. The company has strong strength, attaches great importance to credit, abides by contracts, and guarantees product quality.
The fasteners that KENENG can produce include: various specifications of self-tapping mechanism screws, studs, nuts, flat washers, and rivets. Various non-standard CNC parts, stamping parts, injection molding parts, special-shaped screws, special-shaped springs, battery boxes, precision parts, nylon screws, nylon nuts, nylon studs, etc.
Made by KENENG:
1. Excellent production capacity.
2. Professional production staff.
3. Perfect production equipment.
4. Products with high cost performance.
Let's bring more ideas to life together.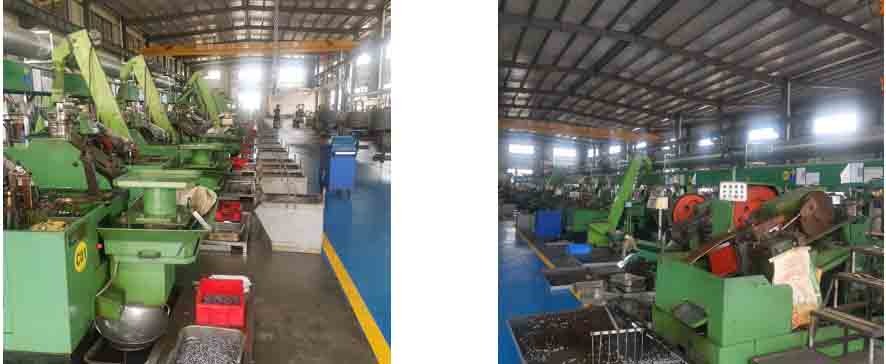 What Processes Can We Use to Produce Nuts?
About CNC Machining CNC machining refers to a machining method that processes parts on a CNC machine and uses digital information to control the displacement of parts and tools. KENENG…
Injection molding is a manufacturing process that produces parts through injection molding machines and molds. Injection molding uses plastic molding molds to make thermoplastics or thermosets into plastic products of…
Production Equipment for Nuts
Application Industries of Nuts
For Example:
Related News
FAQ