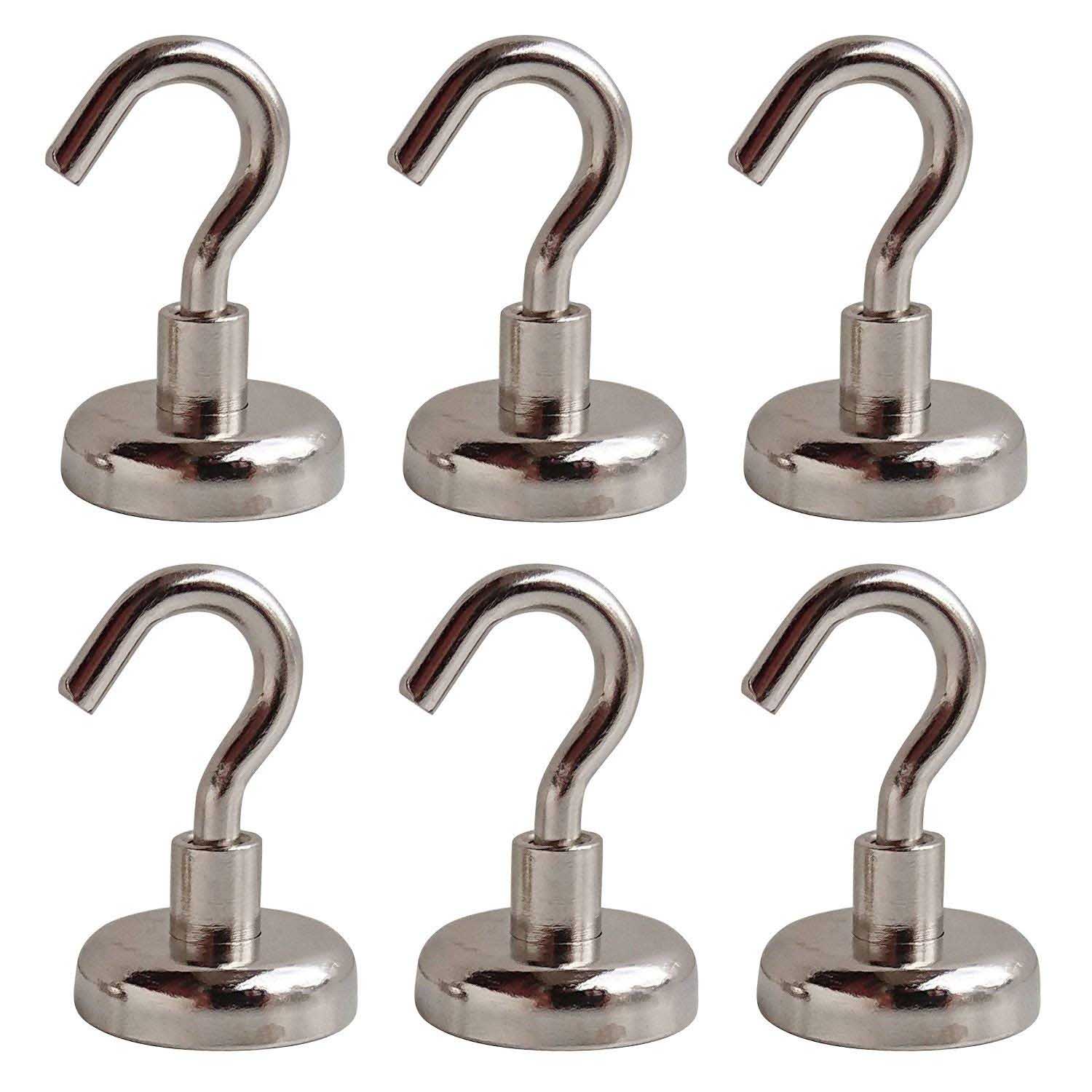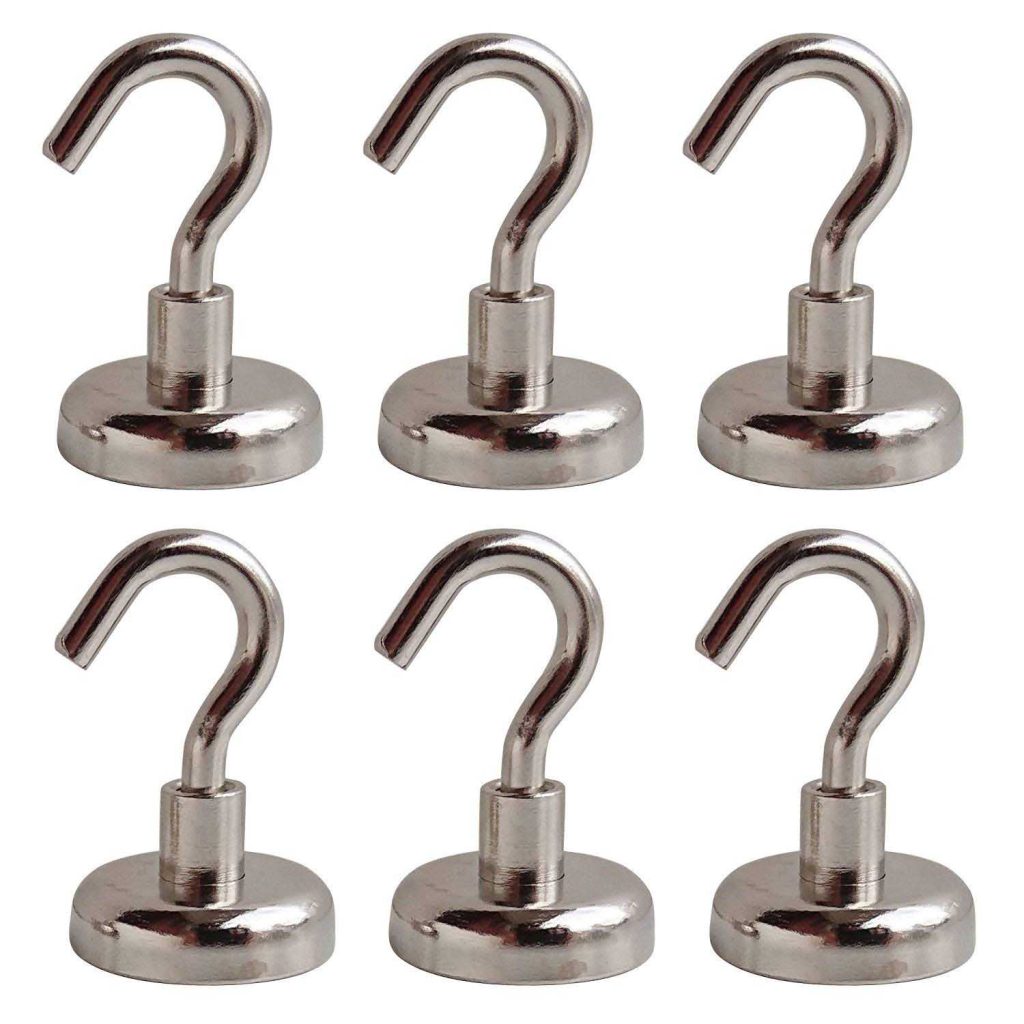 Hook Magnet Supplier
Neodymium hook magnet is a new kind of flexible rare earth magnetic hook, which includes a hook body and hook pad, and the back of the hook pad is provided with a layer of the magnetic sheet.
Neodymium hook magnets have been implemented in many fields, such as gastronomy, automobile, and advertising, life hook magnets are widely used, because they only need metal surfaces, they can be made from iron magnets or ferrite magnets.
We are a professional hook magnet supplier. KENENG has 15 years' experience in hook magnets design, manufacturing, surface coating, and export all over the world. KENENG has strictly QC from raw materials to output products. We have MSDS /ROHS/REACH/ISO 9001 certificates.
KENENG is a professional manufacturer of neodymium strong magnet, single-sided magnet, rubber magnet, circular strong magnet, square strong magnet, ring strong magnet, countersunk strong magnet, screw hole strong magnet, straight hole strong magnet, strip strong magnet, special-shaped strong magnet, etc.
Neodymium Hook Magnet Display
Custom Neodymium Hook Magnet
KENENG is a custom neodymium hook magnet manufacturer.
Inquiry process:
1. Dimensions (mm) including tolerance
2 Material properties (N30-N52)
3 Plating requirements (galvanized, nickel plated, or others)
4 Order Quantity (pieces)
5 Special requirements (drilling, high temperature resistance, etc.)
Hang tools, cables, utensils, decorations, signs or banners
Perfect for home, school, shop and office
Good for organizing wiring for lights or sound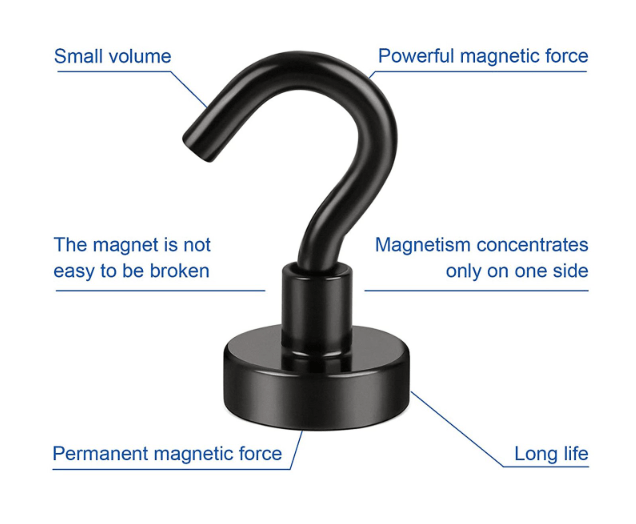 Various Shapes of KENENG's Custom Magnet
If you have any needs, please contact KENENG, we will provide you with the best quality service.
Types of Custom Neodymium Hook Magnet
Hook magnets can be of different types, but the most common high magnets are usually iron magnets, which are used for installing ornaments and office wiring. Hook magnets are an excellent choice for sticking and securing anything to a surface made of ferromagnetic materials (brocade, iron, or drill). This is a good option as it allows us to avoid drilling or lime screws into the wall and avoid leaving marks, which is a faster, simpler, and cleaner solution.
If you need to custom neodymium hook magnet, you can choose different materials(except NdFeB, you can also choose Ferrite, SmCo, Cobalt), size, finishing, etc. The specific parameters include:
Colored Neodymium Hook magnet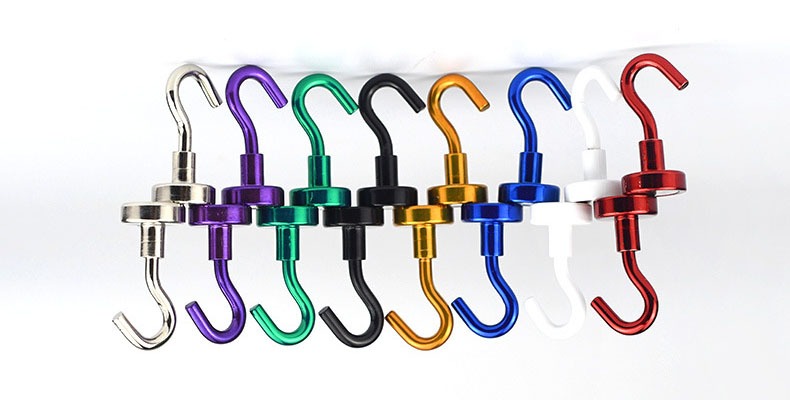 Materials we can Custom Neodymium Hook Magnet
The following is an introduction to other materials you can choose from custom neodymium hook magnet(except NdFeB).
Neodymium Magnet Manufacturer & Neodymium…
Ferrite Magnet Manufacturer & Wholesale…
Smco Magnet Manufacturer & Supplier…
Related Magnets Products
Hook Magnet Supplier
As a hook magnet supplier in China, our products have high quality, reasonable price, good service to win the majority of new and old customers praise!
Advantages of hook magnet supplier – KENENG:
Rigorous process. The use of advanced slicing and line cutting equipment, with professional, skilled operators, to keep the size of the product controlled in a reasonable range.
A variety of specifications. Own factory, advanced equipment, and technology, a variety of specifications and sizes, adequate inventory, support a large number of procurement.
Sincerely welcome customers at home and abroad to call to negotiate business, looking forward to cooperating with you happily if your company has relevant new product development, we are willing to provide you with custom, proofing, and quotation! Thank you very much!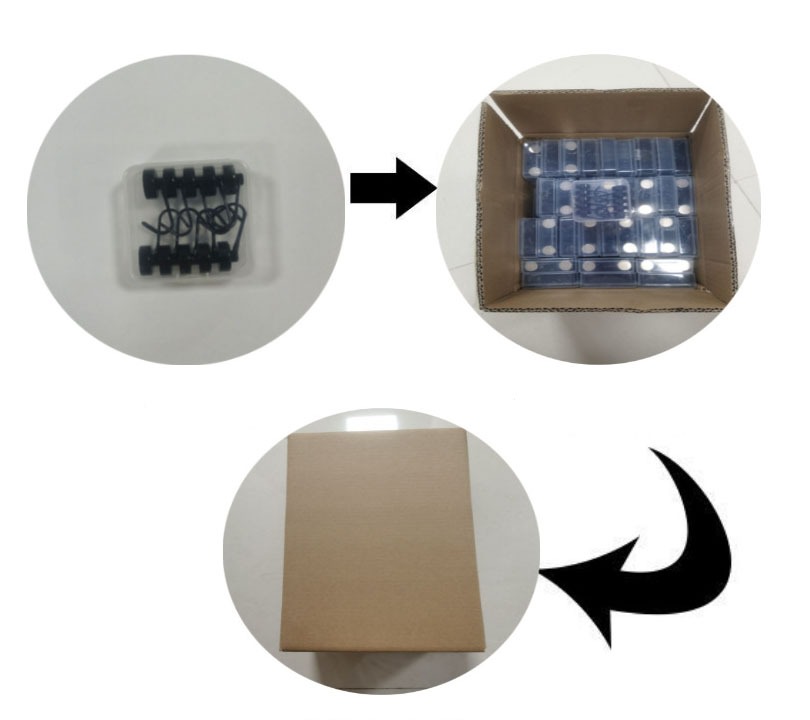 Type of magnet we can manufacturer:
Classification by shapes:
Bar magnets The strength of magnets is concentrated at the poles and weaker at the sides, they are the most commonly used shapes in daily life, such as refrigerator magnets and compasses. Bar magnets are also commonly used for presentations in classrooms. For example, you can use a bar magnet to show the magnetic field by laying metal shavings on the paper that hides the magnet.
Horseshoe magnets are U-shaped bar magnets. The U shape makes the poles point in the same direction, making the magnet stronger. Originally intended as a replacement for bar magnets, this shape has become the universal symbol for magnets. Depending on the strength of different horseshoe magnets, they can be used to pick up metal objects of any size. For example, small horseshoes can be used to collect paper clips, while industrial-sized horseshoe magnets are used to collect large chunks of heavy metals in construction and engineering.
Round magnets can increase its attractiveness by increasing the thickness. Because the surface of the round magnets is wide and flat, the magnetic pole area is large, making them strong and effective magnets. Depending on the size of the circle, this shape has a variety of uses, such as applications in packaging handbags, personal experiments, electronics, smart homes, etc.
Spherical Magnets Spherical magnets are often sold as toys and novelty items. Spherical magnets can be used to make popular table toys, such as rattlesnake eggs, and these shapes can also be used to make nails and necklaces.
A magnet whose height is greater than its diameter is usually radially magnetized. Of course, it can also be axially magnetized. It mainly depends on the actual needs of customers. It is suitable for magnetic toys, Hall induction, galvanometers, and medical equipment.
Ring magnets are widely used and are usually used in scientific experiments. For example, when demonstrating magnetic repulsion, the magnetic ring is passed through a wooden pole. When the same magnetic poles are in contact with each other, they will not contact each other, as well as magnetic levitation, motor, Electroacoustic, salvage, medicine, etc., there are many.
Tile-shaped arc magnets Tile-shaped magnets, also known as arc magnets, curved magnets, are often used in various permanent magnet DC motors Punch a countersunk hole on it and use it with the screw.
The countersunk magnet is to punch a countersunk hole on the basis of the round, square, cylindrical, annular and tile-shaped magnet, and use it together with the screw.
Special-shaped magnets.
The above magnets are relatively common magnets, while special-shaped magnets are mainly used in special occasions, such as magnetic connectors, and some non-standard parts. Common special-shaped magnets include large and small head magnets, T-shaped magnets, and beveled magnets. , Semicircular magnets, concave and convex magnets, slotted magnets, etc.
Classification by attribute
Samarium cobalt magnet, Ndfeb magnet (strong magnet), ferrite magnet, aluminum nickel cobalt magnet, iron chromium cobalt magnet, industry magnet: Magnetic components, motor magnets, rubber magnets, plastic magnets and so on .
Precautions of Neodymium Hook magnet
Temperature
When choosing NdFeB magnets, customers should choose their own magnet grades according to their working temperature. If the working temperature is higher than the bearing temperature of the magnet grades, the magnets will slowly demagnetize until there is no magnetism.
Before ordering, be sure to confirm the working temperature and the grade suitable for your own use.
Environment
If the magnet device used is in a sealed state, you can consider choosing a magnet with no electroplating or white zinc plating on the surface, which can save costs. If the magnet is exposed to humid air, especially in the state of salt spray, it is recommended to consider the surface treated with nickel plating. magnet.
Magnets should be stored in a dry, constant temperature environment, separated and wrapped with plastic, wood chips, cardboard, foam, etc. It should be kept away from iron and easily magnetized items, such as monitors, bank cards, computers, TVs, mobile phones, etc.
Handling and stacking
NdFeB strong magnetic material is hard, brittle, and has a strong magnetic field. It should be handled with care (especially large size and thin sheets). When the strong magnet itself or other iron objects attract or separate, be careful not to shock. Otherwise, the magnet may be damaged or fingers may be pinched due to collision. Because NdFeB is a multi-metal alloy material with a density between 7.45, it has the characteristics of heavy and brittle. So be careful when handling it to avoid magnetic shattering. During storage, the environment should also be kept dry. Do not stack them directly on the ground, but pad them with thick cardboard or place them on shelves.
Instructions for use
When the magnets are attracted to each other and cannot be separated, it is recommended to push them horizontally and stagger them, and do not pull them hard. Use the left hand to fix the whole magnet, and use the index finger and thumb of the right hand to move out the magnet horizontally. Do not throw the removed magnet back into the magnet pile immediately after removing it. Please isolate the magnet immediately. Handle with care, keep away from iron or magnetic objects (about 16 cm) or wrap the removed paper with paper, so as to be safer. If you need to put the magnet back into the whole magnet, please put it back slowly, starting from the edge at a close distance. Be sure to hold the magnet in your hand until the magnet has moved in.
Grades of Neodymium Hook magnet
| | | | | | | | | | | |
| --- | --- | --- | --- | --- | --- | --- | --- | --- | --- | --- |
| Grade | Remanence Induction | | Coercive Force | | Intrinsic Coercive Force | | Maximum Energy Product | | Working Temperature | Density |
| | Br | | HcB | | HcJ | | (BH)max | | Tw | ρ |
| | T | KGs | KA/m | KOe | KA/m | KOe | KJ/m³ | MGOe | ℃ | g/cm3 |
| N38 | 1.23-1.30 | 12.3-13.0 | ≥876 | ≥11 | ≥955 | ≥12 | 287-318 | 36-40 | ≤80 | ≥7.5 |
| N40 | 1.26-1.32 | 12.6-13.2 | ≥876 | ≥11 | ≥955 | ≥12 | 302-334 | 38-42 | ≤80 | ≥7.5 |
| N42 | 1.29-1.35 | 12.9-13.5 | ≥876 | ≥11 | ≥955 | ≥12 | 318-350 | 40-44 | ≤80 | ≥7.5 |
| N45 | 1.32-1.38 | 13.2-13.8 | ≥876 | ≥11 | ≥955 | ≥12 | 334-366 | 42-46 | ≤80 | ≥7.5 |
| N48 | 1.37-1.43 | 13.7-14.3 | ≥876 | ≥11 | ≥955 | ≥12 | 358-390 | 45-49 | ≤80 | ≥7.5 |
| N50 | 1.40-1.45 | 14.0-14.5 | ≥876 | ≥11 | ≥955 | ≥12 | 374-406 | 47-51 | ≤80 | ≥7.5 |
| N52 | 1.42-1.48 | 14.2-14.8 | ≥836 | ≥10.5 | ≥876 | ≥11 | 390-422 | 49-53 | ≤80 | ≥7.5 |
| N55 | 1.46-1.51 | 14.6-15.1 | ≥860 | ≥10.8 | ≥955 | ≥12 | 406-438 | 51-55 | ≤80 | ≥7.5 |
| N38M | 1.23-1.30 | 12.3-13.0 | ≥915 | ≥11.5 | ≥1114 | ≥14 | 287-318 | 36-40 | ≤100 | ≥7.5 |
| N40M | 1.26-1.32 | 12.6-13.2 | ≥939 | ≥11.8 | ≥1114 | ≥14 | 302-334 | 38-42 | ≤100 | ≥7.5 |
| N42M | 1.29-1.35 | 12.9-13.5 | ≥963 | ≥12.1 | ≥1114 | ≥14 | 318-350 | 40-44 | ≤100 | ≥7.5 |
| N45M | 1.32-1.38 | 13.2-13.8 | ≥987 | ≥12.4 | ≥1114 | ≥14 | 334-366 | 42-46 | ≤100 | ≥7.5 |
| N48M | 1.37-1.43 | 13.7-14.3 | ≥1019 | ≥12.8 | ≥1114 | ≥14 | 358-390 | 45-49 | ≤100 | ≥7.5 |
| N50M | 1.40-1.45 | 14.0-14.5 | ≥1043 | ≥13.1 | ≥1114 | ≥14 | 374-406 | 47-51 | ≤100 | ≥7.5 |
| N52M | 1.42-1.48 | 14.2-14.8 | ≥1059 | ≥13.3 | ≥1114 | ≥14 | 390-422 | 49-53 | ≤100 | ≥7.5 |
| N54M | 1.46-1.51 | 14.6-15.1 | ≥995 | ≥12.5 | ≥1035 | ≥13 | 406-438 | 51-55 | ≤100 | ≥7.5 |
| N35H | 1.17-1.24 | 11.7-12.4 | ≥876 | ≥11.0 | ≥1353 | ≥17 | 263-295 | 33-37 | ≤120 | ≥7.5 |
| N38H | 1.23-1.30 | 12.3-13.0 | ≥915 | ≥11.5 | ≥1353 | ≥17 | 286-318 | 36-40 | ≤120 | ≥7.5 |
| N40H | 1.26-1.32 | 12.6-13.2 | ≥939 | ≥11.8 | ≥1353 | ≥17 | 302-334 | 38-42 | ≤120 | ≥7.5 |
| N42H | 1.29-1.35 | 12.9-13.5 | ≥963 | ≥12.1 | ≥1353 | ≥17 | 318-350 | 40-44 | ≤120 | ≥7.5 |
| N45H | 1.32-1.38 | 13.2-13.8 | ≥987 | ≥12.4 | ≥1353 | ≥17 | 334-366 | 42-46 | ≤120 | ≥7.5 |
| N48H | 1.37-1.43 | 13.7-14.3 | ≥1011 | ≥12.7 | ≥1353 | ≥17 | 358-390 | 45-49 | ≤120 | ≥7.5 |
| N50H | 1.40-1.45 | 14.0-14.5 | ≥1027 | ≥12.9 | ≥1353 | ≥17 | 374-406 | 47-51 | ≤120 | ≥7.5 |
| N52H | 1.42-1.48 | 14.2-14.8 | ≥1059 | ≥13.3 | ≥1353 | ≥17 | 390-422 | 49-53 | ≤120 | ≥7.5 |
| N33SH | 1.14-1.21 | 11.4-12.1 | ≥852 | ≥10.7 | ≥1592 | ≥20 | 247-279 | 31-35 | ≤150 | ≥7.5 |
| N35SH | 1.17-1.24 | 11.7-12.4 | ≥876 | ≥11.0 | ≥1592 | ≥20 | 263-295 | 33-37 | ≤150 | ≥7.5 |
| N38SH | 1.23-1.29 | 12.3-12.9 | ≥915 | ≥11.5 | ≥1592 | ≥20 | 287-318 | 36-40 | ≤150 | ≥7.5 |
| N40SH | 1.26-1.32 | 12.6-13.2 | ≥939 | ≥11.8 | ≥1592 | ≥20 | 302-334 | 38-42 | ≤150 | ≥7.5 |
| N42SH | 1.29-1.35 | 12.9-13.5 | ≥963 | ≥12.1 | ≥1592 | ≥20 | 318-350 | 40-44 | ≤150 | ≥7.5 |
| N45SH | 1.32-1.38 | 13.2-13.8 | ≥987 | ≥12.4 | ≥1592 | ≥20 | 334-366 | 42-46 | ≤150 | ≥7.5 |
| N48SH | 1.37-1.43 | 13.7-14.3 | ≥1011 | ≥12.7 | ≥1592 | ≥20 | 358-390 | 45-49 | ≤150 | ≥7.5 |
| N50SH | 1.40-1.45 | 14.0-14.5 | ≥1027 | ≥12.9 | ≥1592 | ≥20 | 374-406 | 47-51 | ≤150 | ≥7.5 |
| N52SH | 1.42-1.48 | 14.2-14.8 | ≥1035 | ≥13 | ≥1512 | ≥19 | 390-422 | 49-53 | ≤150 | ≥7.5 |
| N30UH | 1.08-1.13 | 10.8-11.3 | ≥796 | ≥10.0 | ≥1990 | ≥25 | 223-255 | 28-31 | ≤180 | ≥7.5 |
| N33UH | 1.14-1.18 | 11.4-11.8 | ≥852 | ≥10.5 | ≥1990 | ≥25 | 247-279 | 31-35 | ≤180 | ≥7.5 |
| N35UH | 1.17-1.24 | 11.7-12.4 | ≥876 | ≥11.0 | ≥1990 | ≥25 | 263-295 | 33-37 | ≤180 | ≥7.5 |
| N38UH | 1.23-1.29 | 12.3-12.9 | ≥915 | ≥11.5 | ≥1990 | ≥25 | 287-318 | 36-40 | ≤180 | ≥7.5 |
| N40UH | 1.26-1.32 | 12.6-13.2 | ≥939 | ≥11.8 | ≥1990 | ≥25 | 302-334 | 38-42 | ≤180 | ≥7.5 |
| N42UH | 1.28-1.35 | 12.8-13.5 | ≥963 | ≥12.1 | ≥1990 | ≥25 | 310-350 | 39-44 | ≤180 | ≥7.5 |
| N45UH | 1.32-1.38 | 13.2-13.8 | ≥987 | ≥12.4 | ≥1990 | ≥25 | 334-366 | 42-46 | ≤180 | ≥7.5 |
| N48UH | 1.37-1.42 | 13.7-14.2 | ≥1019 | ≥12.8 | ≥1910 | ≥24 | 358-390 | 45-49 | ≤180 | ≥7.5 |
| N30EH | 1.08-1.15 | 10.8-11.5 | ≥812 | ≥10.2 | ≥2388 | ≥30 | 223-255 | 28-32 | ≤200 | ≥7.5 |
| N33EH | 1.14-1.21 | 11.4-12.1 | ≥851 | ≥10.7 | ≥2388 | ≥30 | 247-279 | 31-35 | ≤200 | ≥7.5 |
| N35EH | 1.17-1.24 | 11.7-12.4 | ≥876 | ≥11.0 | ≥2388 | ≥30 | 263-295 | 33-37 | ≤200 | ≥7.5 |
| N38EH | 1.23-1.29 | 12.3-12.9 | ≥915 | ≥11.5 | ≥2388 | ≥30 | 287-318 | 36-40 | ≤200 | ≥7.5 |
| N40EH | 1.26-1.32 | 12.6-13.2 | ≥939 | ≥11.8 | ≥2388 | ≥30 | 302-334 | 38-42 | ≤200 | ≥7.5 |
| N42EH | 1.28-1.35 | 12.8-13.5 | ≥963 | ≥12.1 | ≥2388 | ≥30 | 310-350 | 39-44 | ≤200 | ≥7.5 |
| N45EH | 1.33-1.38 | 13.3-13.8 | ≥995 | ≥12.5 | ≥2308 | ≥29 | 334-366 | 42-46 | ≤200 | ≥7.5 |
| N28AH | 1.04-1.12 | 10.4-11.2 | ≥772 | ≥9.7 | ≥2786 | ≥35 | 207-239 | 26-30 | ≤230 | ≥7.5 |
| N30AH | 1.08-1.15 | 10.8-11.5 | ≥812 | ≥10.2 | ≥2786 | ≥35 | 223-255 | 28-32 | ≤230 | ≥7.5 |
| N33AH | 1.14-1.21 | 11.4-12.1 | ≥852 | ≥10.7 | ≥2786 | ≥35 | 247-279 | 31-35 | ≤230 | ≥7.5 |
| N35AH | 1.17-1.24 | 11.7-12.4 | ≥876 | ≥11.0 | ≥2786 | ≥35 | 263-295 | 33-37 | ≤230 | ≥7.5 |
| N38AH | 1.23-1.27 | 12.3-12.7 | ≥923 | ≥11.6 | ≥2786 | ≥35 | 287-318 | 36-40 | ≤230 | ≥7.5 |
| N40AH | 1.26-1.31 | 12.6-13.1 | ≥939 | ≥11.8 | ≥2628 | ≥33 | 302-334 | 38-42 | ≤230 | ≥7.5 |
| N42AH | 1.29-1.35 | 12.9-13.5 | ≥955 | ≥12.0 | ≥2628 | ≥33 | 318-350 | 40-44 | ≤230 | ≥7.5 |
| G48SH | 1.37-1.42 | 13.7-14.2 | ≥1011 | ≥13 | ≥1592 | ≥20 | 358-390 | 45-49 | ≤150 | ≥7.5 |
| G50SH | 1.40-1.45 | 14.0-14.5 | ≥1027 | ≥13.2 | ≥1592 | ≥20 | 374-406 | 47-51 | ≤150 | ≥7.5 |
| G52SH | 1.42-1.48 | 14.2-14.8 | ≥1067 | ≥13.4 | ≥1592 | ≥20 | 390-422 | 49-53 | ≤150 | ≥7.5 |
| G55SH | 1.46-1.51 | 14.6-15.1 | ≥1083 | ≥13.6 | ≥1592 | ≥20 | 406-438 | 51-55 | ≤150 | ≥7.5 |
| G45UH | 1.33-1.38 | 13.3-13.8 | ≥978 | ≥12.4 | ≥1990 | ≥25 | 334-366 | 42-46 | ≤180 | ≥7.5 |
| G48UH | 1.37-1.42 | 13.7-14.2 | ≥1027 | ≥12.9 | ≥1990 | ≥25 | 358-390 | 45-49 | ≤180 | ≥7.5 |
| G50UH | 1.40-1.45 | 14.0-14.5 | ≥1051 | ≥13.2 | ≥1990 | ≥25 | 374-406 | 47-51 | ≤180 | ≥7.5 |
| G52UH | 1.42-1.48 | 14.2-14.8 | ≥1067 | ≥13.4 | ≥1990 | ≥25 | 390-422 | 49-53 | ≤180 | ≥7.5 |
| G54UH | 1.46-1.51 | 14.6-15.1 | ≥1075 | ≥13.5 | ≥1990 | ≥25 | 406-438 | 51-55 | ≤180 | ≥7.5 |
| G40EH | 1.26-1.31 | 12.6-13.1 | ≥955 | ≥12.0 | ≥2388 | ≥30 | 302-334 | 38-42 | ≤200 | ≥7.5 |
| G44EH | 1.29-1.35 | 12.9-13.5 | ≥971 | ≥12.2 | ≥2388 | ≥30 | 318-350 | 40-44 | ≤200 | ≥7.5 |
| G46EH | 1.33-1.38 | 13.3-13.8 | ≥1011 | ≥12.7 | ≥2388 | ≥30 | 334-366 | 42-46 | ≤200 | ≥7.5 |
| G48EH | 1.37-1.42 | 13.7-14.2 | ≥1027 | ≥12.9 | ≥2388 | ≥30 | 358-390 | 45-49 | ≤200 | ≥7.5 |
| G50EH | 1.40-1.45 | 14.0-14.5 | ≥1051 | ≥13.2 | ≥2308 | ≥29 | 374-406 | 47-51 | ≤200 | ≥7.5 |
Production equipment for Neodymium Hook Magnet
Application case of Neodymium Hook magnet
FAQ of Neodymium Hook magnet