Neodymium Magnet
Custom Neodymium Magnet Supplier and Manufacturer
Neodymium Magnets (also known as "NdFeB", "Neo" or "NIB" magnets), are strong permanent magnets made from an alloy of neodymium, iron & boron. Part of the Rare-Earth magnet family, they have the highest magnetic properties of all permanent magnets, so they are called magneto Kings. Due to their high magnetic strength and relatively low cost, they are widely used in the electroacoustic fields, electronic appliances, motor fields, mechanical equipment, medical care and other industries.
Dongguan KENENG International Trading Co., Ltd is a professional neodymium magnet manufacturer or neodymium magnet factory, and it has 15 years of experience in magnets design, manufacturing, coating and export all over the world, and has a complete and scientific quality management system from raw materials to output products. We can manufacture and customize a variety of neodymium magnets, such as neodymium disc magnets, neodymium ring magnets, neodymium cube magnets, neodymium countersunk magnets and so on. And we have won a good reputation in this industry for our excellent and stable quality, prompt delivery and fast response.
Products Show
How to Custom Neodymium Magnet
As a 15 years NdFeB magnet manufacturer, we support customize make low temperature and high-temperature resistant magnet assemblies. We support customize make general materials and special materials strong magnetic and soft magnetic.
If your needs are unique, we can provide custom neodymium magnets using our state-of-the-art equipment which allows for surface treatment and tight tolerances to create precisely the specialty neodymium magnets you need. Welcome to send drawings for inquiry.
| | |
| --- | --- |
| Materials | Neodymium, Iron, Boron. |
| Processing | Bending, Welding, Decoiling, Cutting, Punching, Moulding, etc. |
| Size | Make dimensions according to customer requirements. |
| Coating | nickel, zinc, black epoxy, gold, rubber, etc. |
If you have any needs, please contact KENENG, we will provide you with the best quality service.
Case Products of Neodymium Magnet
The Order Processes of Neodymium Magnet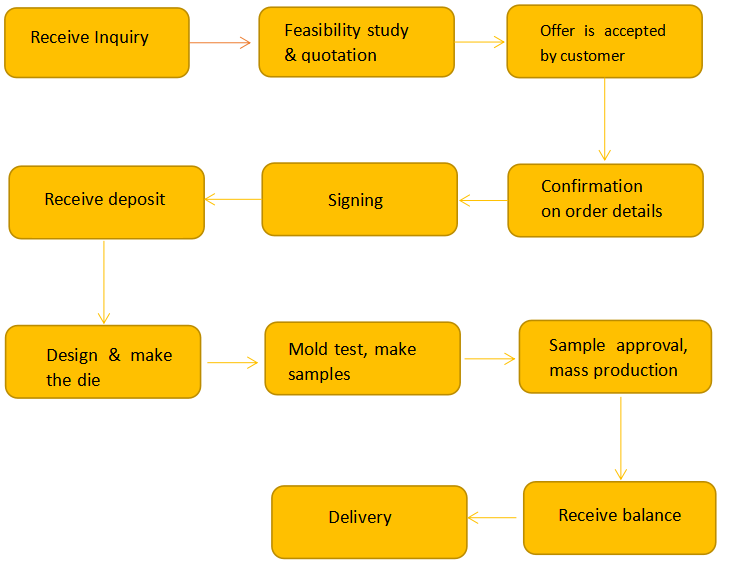 How to Manufacture Neodymium Magnet
General Process
Raw material →Dosing →Mixing →Smelting →Hydrogen Embrittlement →Air stream mill→Molding →Sintering →Functional test →Machining →Finishing →visual inspection →Magnetization →Packing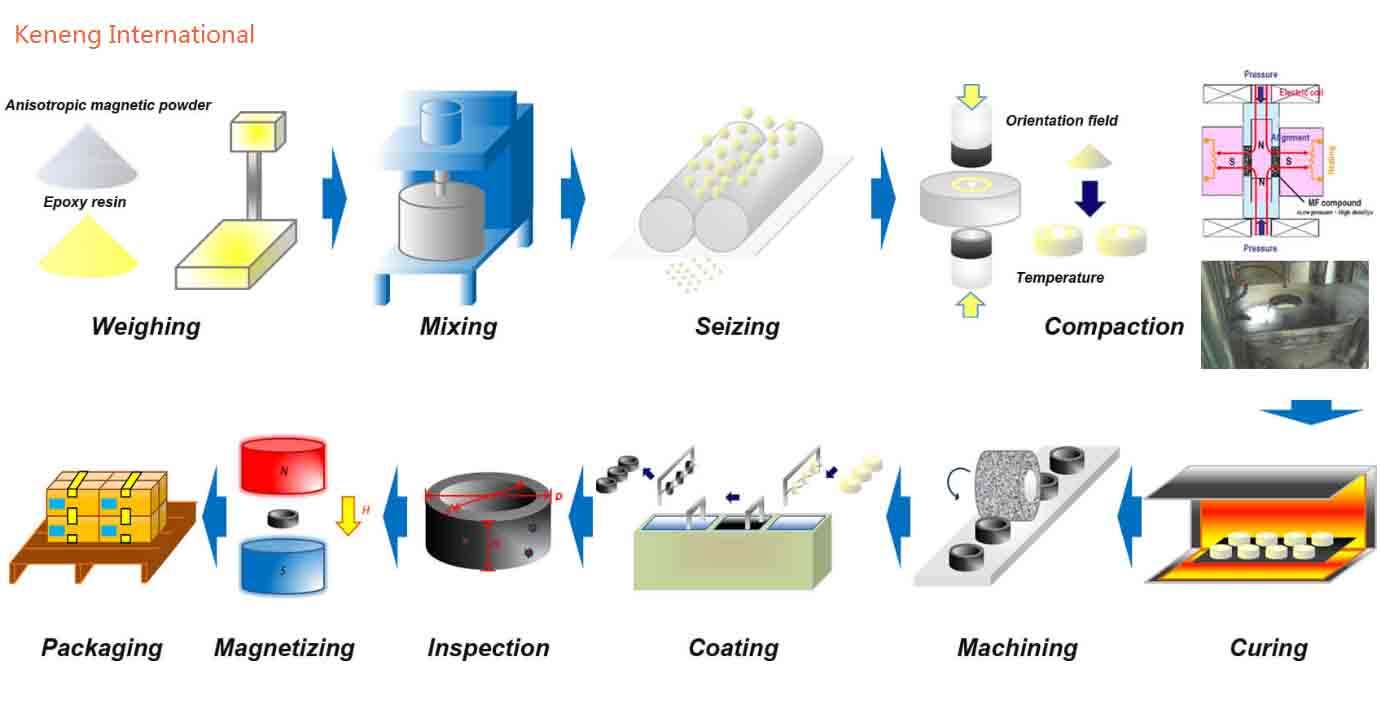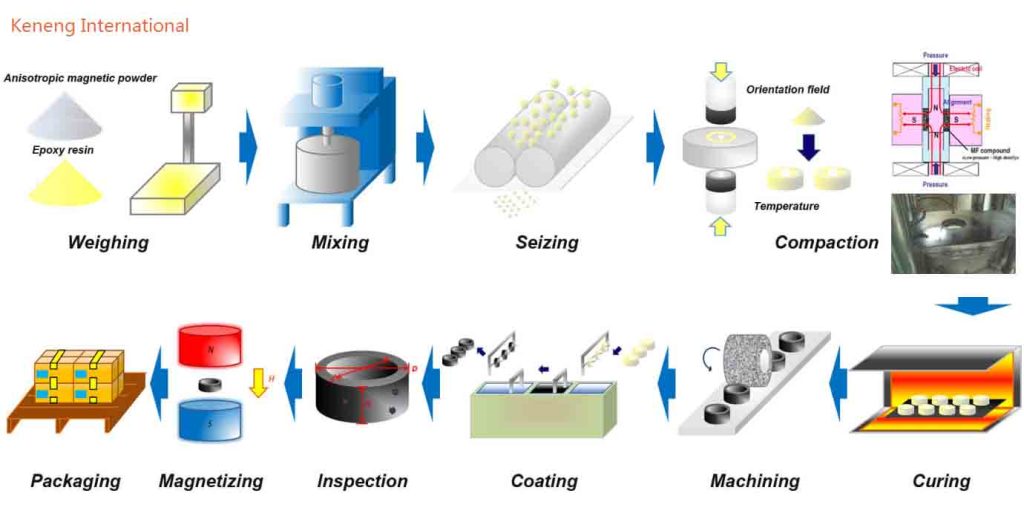 Application Industries of Neodymium Magnet
For Example:
Electroacoustic field: speakers, receivers, microphones, alarms, stage audio, car audio, etc.
Electronic appliances: permanent magnet mechanism vacuum circuit breakers, magnetic latching relays, watt-hour meters, water meters, sound meters, reed switches, sensors, etc.
Motor field: VCM, CDDVD-ROM, generators, motors, servo motors, micro-motors, motors, vibration motors, etc.
Mechanical equipment: magnetic separation, magnetic separator, magnetic crane, magnetic machinery, etc.
Healthcare: nuclear magnetic resonance apparatus, medical equipment, magnetic therapy health care products, magnetized fuel saver, etc.
Other industries: magnetized wax inhibitor, pipe descaler, magnetic fixture, automatic mahjong machine, magnetic lock, door and window magnet, luggage magnet, leather magnet, toy magnet, tool magnet, craft gift packaging, etc.
What Processes Can We Use to Produce Neodymium Magnet?
About CNC Machining CNC machining refers to a machining method that processes parts on a CNC machine and uses digital information to control the displacement of parts and tools. KENENG…
Why Choose KENENG?
Advantages of KENENG
As an experienced and professional magnet supplier, due to its extensive business, KENENG has multiple identities at the same time, such as permanent magnets supplier, NdFeB magnets supplier, rare earth magnets manufacturer, high-temperature magnets supplier, n52 magnets supplier, n50 magnets supplier.
In the market, economy competition is increasingly fierce today, with high quality, reasonable prices, and good service winning the majority of new and old customers' praise! Sincerely welcome customers at home and abroad to call to negotiate business, looking forward to cooperating with you happily if your company has relevant new product development, we are willing to provide you with custom, proofing, and quotation! Thank you very much!
1. Optimizing material
It is a kind of magnet widely used at present to produce high-quality iron and boron strong magnets with high-quality rare earth wrong iron materials and various mixed materials.
2. Multiple protection
Three-layer electroplating with beautiful and practical nickel-copper-nickel coating, three-layer protection and corrosion resistance, is an ideal coating for iron materials.
3. Rigorous process
The use of advanced slicing and line cutting equipment, with professional, skilled operators, to keep the size of the product controlled in a reasonable range.
4. All kinds of specifications
Own factory, advanced equipment and technology, all kinds of specifications and sizes, adequate inventory, support a lot of procurement.
KENENG's Certifications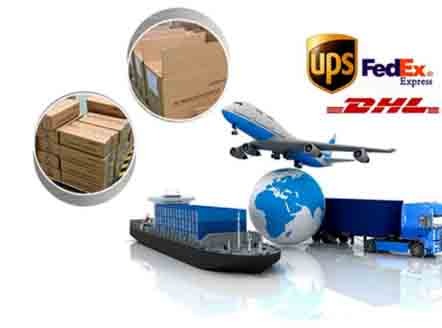 Packing & Delivery of Neodymium Magnet
Packaging
Inner box and outer carton to ensure the safety of the goods during the transportation process.
Shipping
Standard sea or air package, also can according to client's requirement.
Related News
FAQ
Business Partners