Double-Sided Round Neodymium Fishing Magnet
Specifications of Double-Sided Round Neodymium Fishing Magnet
Customized according to customer requirements.
We accept customized services:
Dimension Requirements (length86-187mm, height 24-36mm, diameter 48-136mm and tolerance, etc )
Material and coating requirements
Processing according to design drawings
Magnet Grade Requirements
Surface treatment requirements (plating requirements)
Other requirements
Advantages of Double-Sided Round Neodymium Fishing Magnet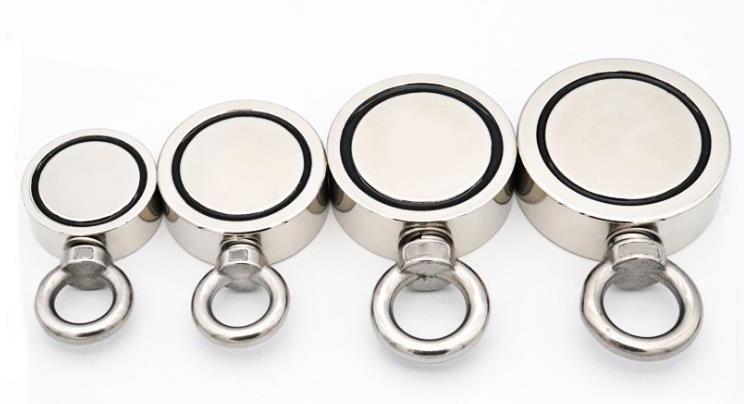 Detachable stainless steel lifting ring. 304 stainless steel has good corrosion resistance. The lifting ring is detachable. It is easy to use with other products.
Strong Nd-Fe-B permanent magnet. NdFeB has a very high magnetic energy product, coercivity, and high energy density, and the magnetic force is concentrated.
Anti-collision black epoxy filled. Better protection of internal magnet, not easy to fall off, anti-fragmentation increase service life, below.
Double protection of steel sleeve. The steel casing can enhance the magnetic properties by more than 2 times and reduce the probability of collision damage.
Why Choose KENENG Double-Sided Round Neodymium Fishing Magnet
KENENG has professional magnet production equipment and testing equipment. We are able to skillfully produce rubidium magnets, SmCo magnets, ferrite magnets, AlNiCo magnets, flexible magnets, etc. Not only are there many kinds of materials to choose from, we can also produce various shapes, such as annular, cylindrical, spherical, and so on. If you have samples or drawings, KENENG's magnet factory can also customize magnets according to them.
OEM: Receive pictures or samples → Design & drawing process → Make sample, approval by customer → Confirmation on order detail → Signing Pi → Receive deposit → Mass production → Receive Balance → Delivery
ODM Customer has design: Receive design → Quotation → Payment of design fee →
Make CAD or 3D design → Make sample, approval by customer → Confirmation on order detail → Signing Pi → Receive deposit → Mass production → Receive Balance → Delivery
Applications of Double-Sided Round Neodymium Fishing Magnet
Related Products