Double-Sided Round Neodymium Fishing Magnet
Grade: N38 (Can be customized with stronger magnetic)
Material: neodymium magnet
Finishing: Ni Cu Ni
Size:75*25*119mm
Working temperature: 80(℃)(max 200℃)
Application: widely used in sensors, motors, rotors, wind turbines, wind generators, etc.
Specifications of Double-Sided Round Neodymium Fishing Magnet
Customized according to customer requirements.
We accept customized services:
Dimension Requirements (length86-187mm, height 24-36mm, diameter 48-136mm and tolerance, etc )
Material and coating requirements
Processing according to design drawings
Magnet Grade Requirements
Surface treatment requirements (plating requirements)
Other requirements
Advantages of our Double-Sided Round Neodymium Fishing Magnet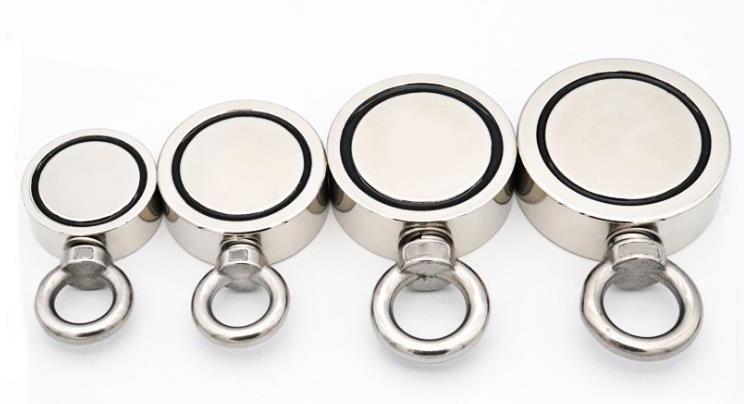 Detachable stainless steel lifting ring. 304 stainless steel has good corrosion resistance. The lifting ring is detachable. It is easy to use with other products.
Strong Nd-Fe-B permanent magnet. NdFeB has a very high magnetic energy product, coercivity, and high energy density, and the magnetic force is concentrated.
Anti-collision black epoxy filled. Better protection of internal magnet, not easy to fall off, anti-fragmentation increase service life, below.
Double protection of steel sleeve. The steel casing can enhance the magnetic properties by more than 2 times and reduce the probability of collision damage.
Applications of Double-Sided Round Neodymium Fishing Magnet
Related Products