Screws
Custom Screws Supplier and Manufacturer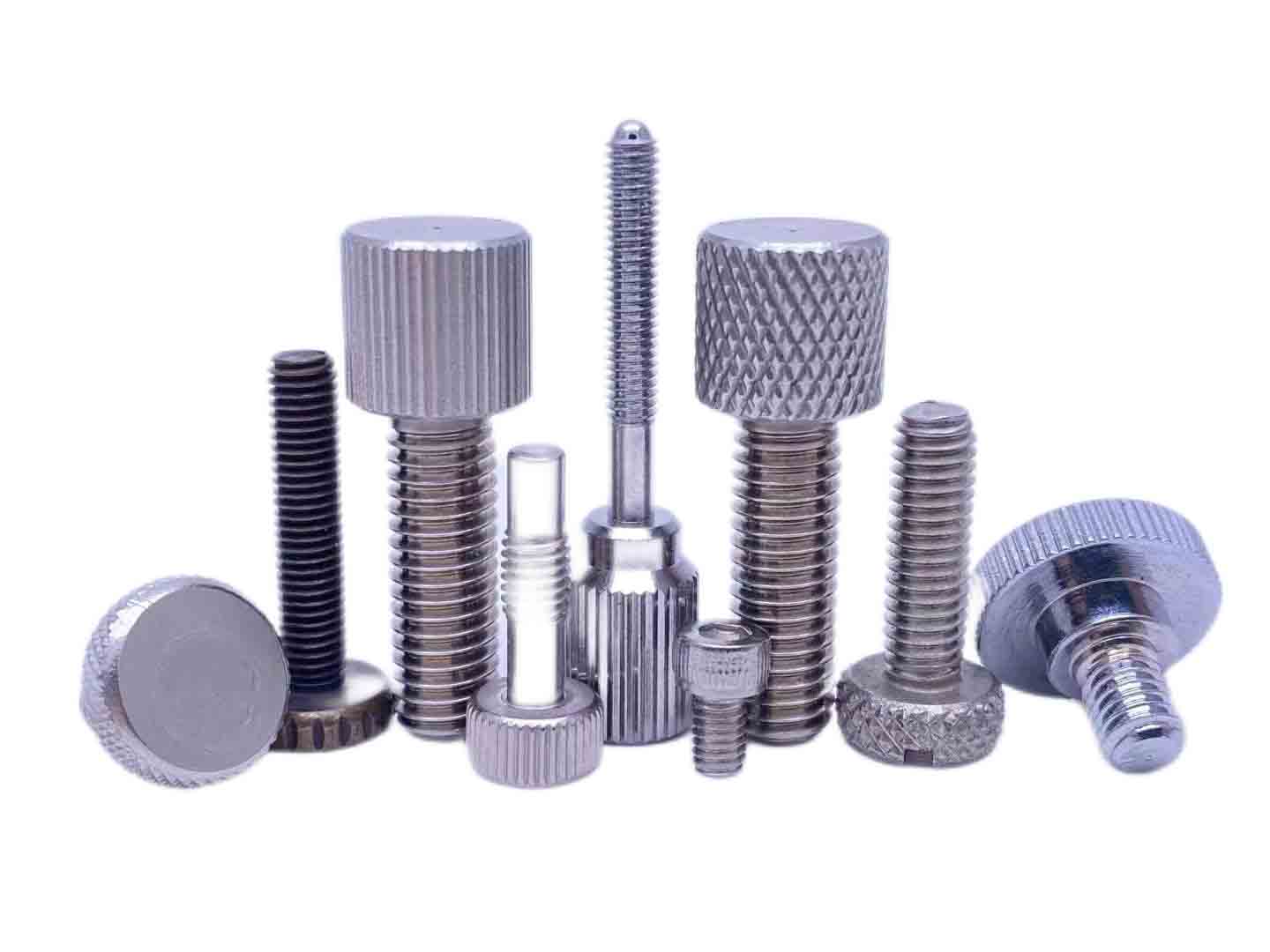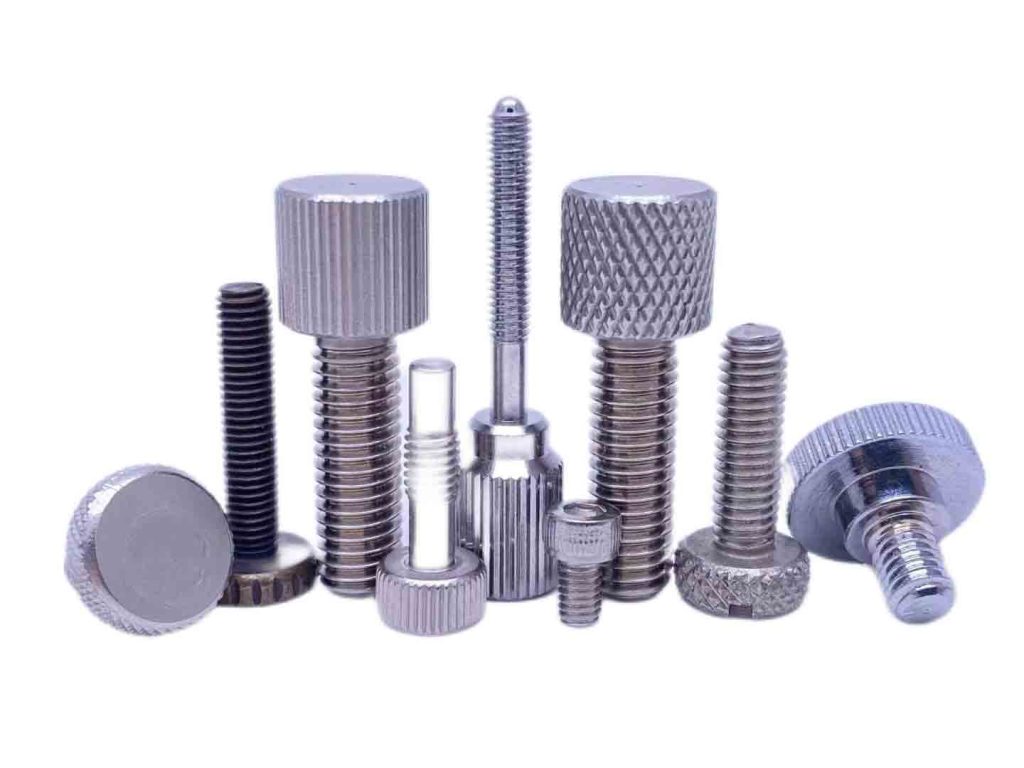 The screw is a general term for fasteners. The principle of screws is to use the physical and mathematical principles of inclined circular rotation and friction of objects to tighten the mechanical parts of objects step by step.
Dongguan KENENG International Trading Co., Ltd is a professional screws manufacturer and trading integrating company, specializing in the design, production, and sales of various carbon steel, stainless steel, copper parts, titanium alloy products such as British and American standard Cup heads, hexagon bolts, self-tapping screws, drilling screws, drywall screws, stud bolts, U-bolts, anchor bolts, welding screws, eye bolts, SEM screws, set screws, carriage screws, nuts, gaskets, electronic small screws, pin shafts, springs, car parts, high-grade building expansion bolts, etc.
KENENG has ISO9001 and Dun & Bradstreet certifications and has its own patents and trademarks, we also plan to achieve IATF 16949 certification this year.
Screws Display
Custom Screws
We have a professional R&D team and can produce various non-standard screws according to customer requirements. Custom fasteners are required when engineering specifications require fasteners to function in applications that are not industry standard. KENENG is a custom screw manufacturer. The purpose of custom screws is:
Customized screws are available for special lengths, and tolerances regarding length or body diameters.
Due to some special strength requirements or corrosion conditions, these special conditions may require special materials.
1. KENENG can customize non-standard screws of different materials. Including stainless steel, carbon steel, aluminum, copper, alloy steel, titanium alloy, etc.
2. KENENG can customize non-standard screws with different strength levels. Including 3.6, 4.6, 4.8, 5.6, 6.8, 8.8, 9.8, 10.9, 12.9, etc.
3. KENENG can customize non-standard screws with different surface treatments. Including white zinc, black zinc, yellow zinc, green zinc, color zinc, silver, gold, chromium, nickel, tin, copper, etc.
4. KENENG can customize non-standard screws with different head and groove types. The head shape includes cross, hexagon, rice character, plum blossom, H shape, triangle, square hole, Y shape, etc.
Grooves include pan head screws, round head screws, mushroom or truss head screws, countersunk head screws, flat head screws, oval or raised head screws, bugle head screws, cheese head screws, fillister head screws, flange head screws, hexagon socket head screws, square head screw, etc.
According to customer requirements, we can customize various specifications of non-standard screws, combination screws, electronic screws, special-shaped screws and precision screws required by customers according to the drawings.
The screws we produce have undergone quality inspection from the selection of raw materials to the delivery of products. Our non-standard screws, special screws, special-shaped screws, etc. are deeply favored, trusted and praised by new and old customers, and our sales network covers the whole world.
If you have any needs, please contact KENENG, we will provide you with the best quality service.
Case Products of Screws
Screws are ubiquitous in industrial production and daily life. Therefore, screws are also known as the rice of industry. The application scope of screws includes electronic products, mechanical products, digital products, power equipment, and electromechanical mechanical products. Screws are also widely used in vehicles, ships, chemical experiments, hydraulic engineering, and so on. And It is also widely used in machinery, mold, automobile, motorcycle, aerospace, agricultural machinery, electronics, construction, household appliance, and other fields.
We have a large number of quantities of standard Metric and Inch screws in stock. For a long time, we have been serving new and old customers with the concept of honesty, pragmatism, innovation, and win-win, and have a good reputation in the hardware industry.
Types of Customization You Can Choose From
Materials
The standard screw in the market mainly includes carbon steel, stainless steel, and copper. We distinguish low carbon steel, medium carbon steel, high carbon steel, and alloy steel by the carbon content in carbon steel.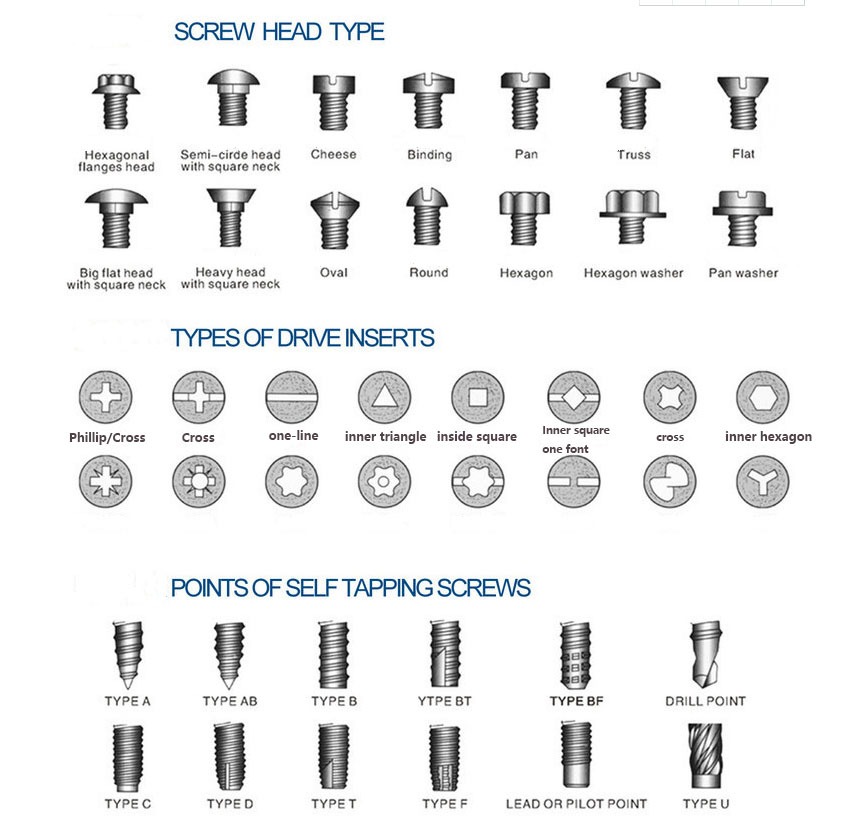 Materials We Can Use on Screws

Related Products
Screw Manufacturer in China
KENENG can manufacture standard and non-standard screws. We are able to produce electronic precision screws, extra-long screws, step screws, shoulder screws, color screws, self-drilling screws, wood screws, machine screws, drywall screws, brass screws, and self-tapping screws, as well as other kinds of special-shaped screws. The products are widely used in high-end furniture, kitchenware, medical beds, sports equipment, household appliances, etc., and can provide salt spray, film thickness, and various test reports.
KENENG has more than 500 sets of production and testing equipment imported from Japan, Switzerland, the United States and Taiwan, including cold forming, CNC, stamping, hot forging, turning, cold drawing, heat treatment, and electroplating lines. KENENG attaches great importance to product research and development and insists on technological innovation. The production process includes cold heading head, groove rubbing, clamping, tooth rubbing, die casting, injection molding, groove milling, etc.
Our advantage:
short development cycle.
Competitive price.
Mass production capacity (20k-200k pieces/order), monthly production capacity exceeds 10 million pieces.
Abundant raw materials.
Guarantee product quality and delivery time.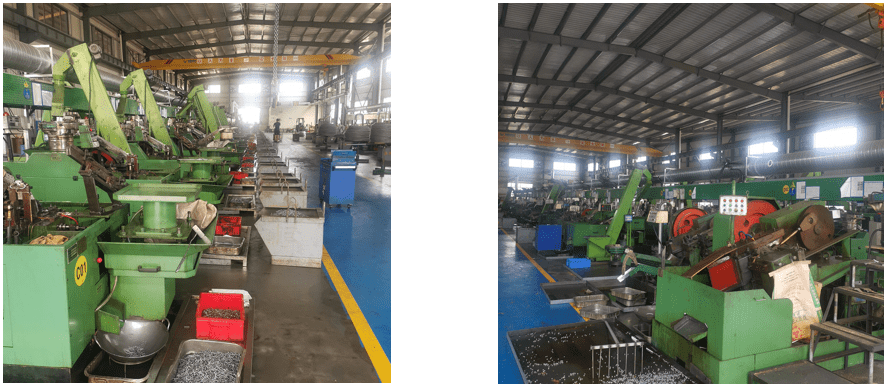 What Processes Can We Use to Produce Screws?
About CNC Machining CNC machining refers to a machining method that processes parts on a CNC machine and uses digital information to control the displacement of parts and tools. KENENG…
Injection molding is a manufacturing process that produces parts through injection molding machines and molds. Injection molding uses plastic molding molds to make thermoplastics or thermosets into plastic products of…
Inspection Equipment and Screw Production Process: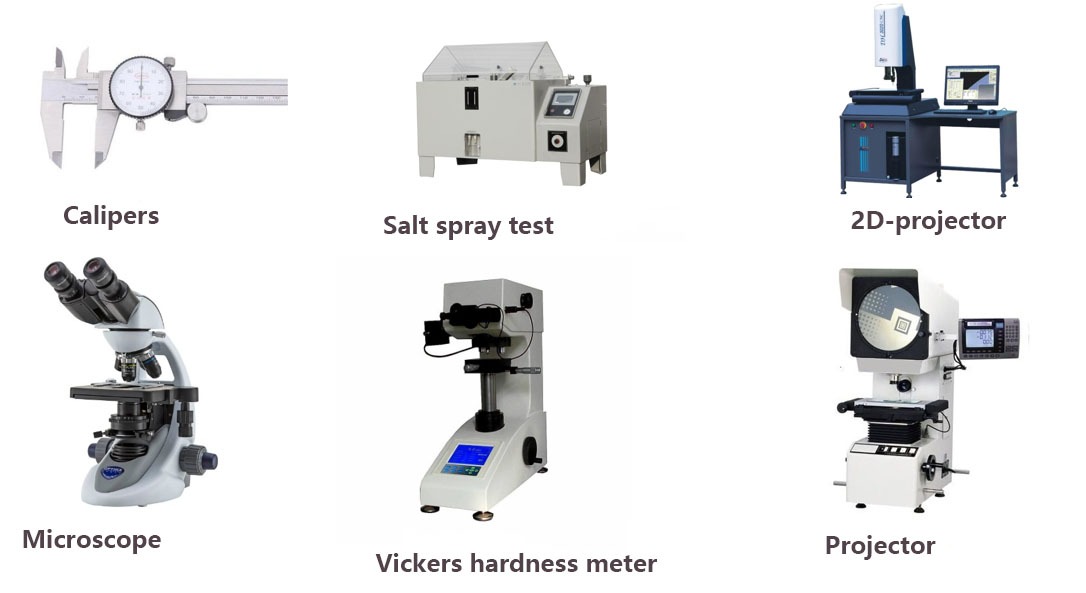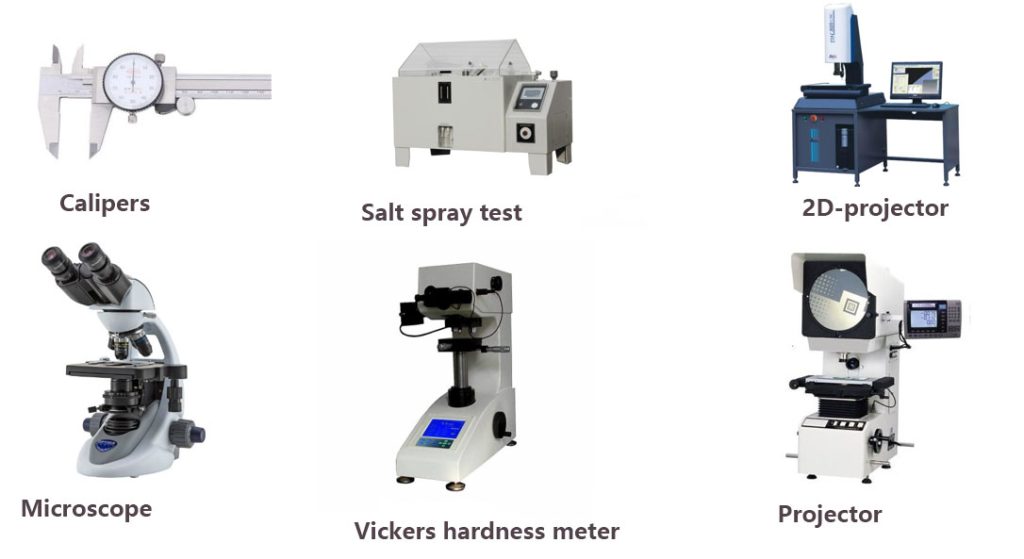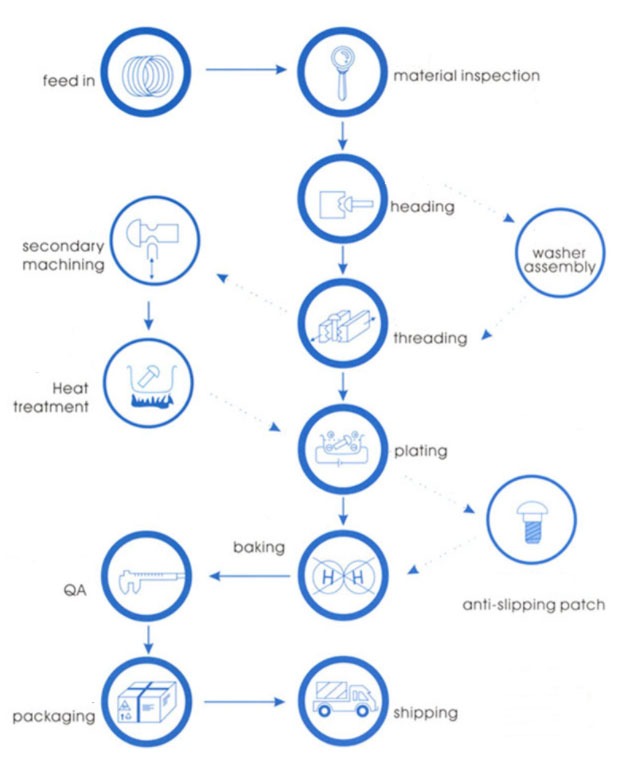 Application Industries of Screws
Related News
FAQ