Custom Pan Head Philip SEM Screw
Specifications of Pan head Philip SEM Screw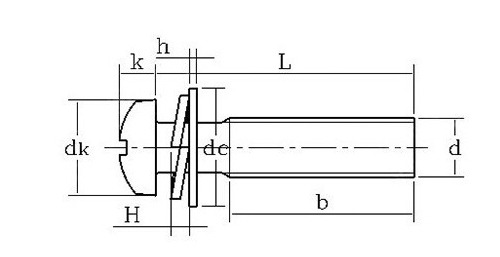 | | | | | | | | |
| --- | --- | --- | --- | --- | --- | --- | --- |
| Thread specification d | M2 | M2.5 | M3 | M4 | M5 | M6 | M8 |
| b min | 9mm | 25mm | 25mm | 38mm | 38mm | 38mm | 44mm |
| dk | 3.3mm | 4.6mm | 5mm | 6.7mm | 8mm | 10mm | 12.7-12.9mm |
| dc | 4.72mm | 5.5mm | 7mm | 9mm | 10mm | 12mm | 15.5-15.7mm |
| h | 0.35mm | 0.5mm | 0.5mm | 0.8mm | 1mm | 1.6mm | 1.3-1.5mm |
| k | 0.5-0.7mm | 1.3-1.4mm | 1.5-1.7mm | 1.9-2.0mm | 2.6-2.9mm | 3.1-3.3mm | 3.6-3.8mm |
Advantages of Custom Pan head Philip SEM Screw
The installation process is not easy to appear slip phenomenon, use the tool to install quickly.
Smooth surface, deep thread, uniform force, and rotation process is not easy to slip.
Strong and durable, not easy to rust.
Why Choose KENENG Custom Pan head Philip SEM Screw
KENENG's monthly production capacity exceeds 10 million pieces.
We produce a wide range of products at reasonable prices, and ensure product quality.
Order process of Stamping part: Receive CAD or 3D design → Quotation → Signing Pi → Receive dispose → Make product → Open molding → Trial production → Mass production → Receive Balance → Delivery
Materials we can use on Pan head Philip SEM Screw
Related Products
Related News