Custom Knurled Chicago Screw
Material: Brass
Finishing: Plain
Size: M4~M5
Processing type:  Lathe Machining
Application: The Chicago screws are usually used in luggage, tables and chairs, etc., as a decorative fastening
Specifications of Custom Knurled Chicago Screw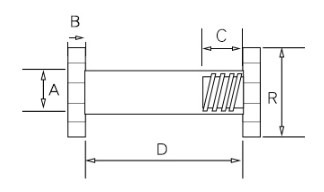 | | | | | | |
| --- | --- | --- | --- | --- | --- |
| Specification (Unit: mm) | A | D | R | B | C |
| M4 | 3.83 | 4-60 | 9 | 1 | 3 |
| M5 | 4.87 | 5-100 | 9 | 1 | 3 |
Manufacturing process of Custom Knurled Chicago Screw
To process a knurled Chicago screw, It will need a knurling tool, a drill press, a set of taps and dies, and a Chicago screw. First, use the knurling tool to create a knurling pattern on the head of the screw. Next, use the drill press to drill a hole in the material the same size as the screw. Then, use the tap and die set to thread the hole. Finally, insert the Chicago screw into the hole and tighten it with a screwdriver.
Advantage of our Custom Knurled Chicago Screw
1. Brass material, with good wear resistance, high strength, not easy to deform.
2. Standard slot, easy and fast installation, can be screwed with a slotted screwdriver.
Materials we can use on Custom Knurled Chicago Screw
Related Products
Related News