Hexagon Socket Cap Head Screws
Specifications of Hexagon Socket Cap Head Screws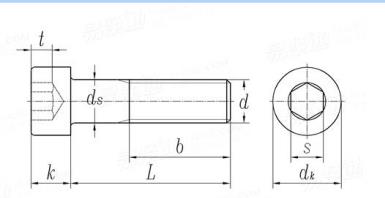 Applications of Hexagon Socket Cap Head Screws
In addition to mechanical manufacturing, hex screws can be used in hardware products. Common electrical products in life, electronic products and mechanical equipment, etc., will use this screw. Parts that have used hex screws will be used in the production and assembly of automobiles and ships, and the scope of operation is very wide. Now hexagonal screws are involved in electronic appliances, the electric power chemical industry, furniture manufacturing, water conservancy engineering and other fields.
Advantages of Hexagon Socket Cap Head Screws
1, Bear more load
2, Easy to assemble and maintain, and easy to debug
3, The whole head can be sunk into the inside of the workpiece, which can maintain the smooth and beautiful surface of the workpiece
4, Not easy to disassemble.
Materials we can use on Hexagon Socket Cap Head Screws
Related Products
Related News