Countersunk Head Torx Screws
Specifications of Countersunk Head Torx Screws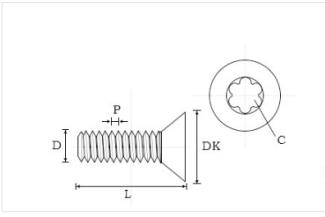 | | | | | |
| --- | --- | --- | --- | --- |
| Thread Diameter(D) | Length Code(L) | Pitch(P) | Head Diameter(DK) | Torx Number(C) |
| | | | | |
| M2 | 3.0mm-12mm | 0.4mm | 3.5mm | T6 |
| M2.5 | 3.0mm-16mm | 0.45mm | 4.5mm | T8 |
| M3 | 5.0mm-20mm | 0.5mm | 5.5m | T10 |
| M4 | 6.0mm-40mm | 0.7mm | 8.0mm | T20 |
| M5 | 6.0mm-50mm | 0.8mm | 9.0mm | T25 |
| M6 | 10.0mm-50mm | 1.0mm | 11.0mm | T30 |
| M8 | 10.0mm-60mm | 1.25mm | 15.8mm | T40 |
| M10 | 16.0mm-100mm | 1.5mm | 18.3mm | T50 |
Definition of Countersunk Head Torx Screws
The Countersunk Head Torx Screws refers to the screw with countersunk head and flat tail. The screw with countersunk head can be screwed the head entirely into the workpiece without protruding the head of the screw. This kind of fastening connection is generally used for the surface of the external workpiece, which can make the surface of the workpiece very smooth and beautiful.
Advantages of Countersunk Head Torx Screws
1.Corrosion-resistant. Stainless steel Countersunk Head Torx Screws  is corrosion-resistant and suitable for outdoor facilities that require wind and sun exposure.
2.Heat resistance and high temperature resistance. Stainless steel Countersunk Head Torx Screws not only have good heat resistance for high temperatures, but also can withstand low or even ultra-low temperatures, making it very advantageous for use in harsh cold areas.
3.High strength and hardness. With high strength and hardness, as well as wear resistance, Countersunk Head Torx Screws can be used in public places and outdoor facilities.
4.High efficiency of assembly for the Torx head, it is not easy to slip, and the lifespan of the batch head is longer.
Materials we can use on Countersunk Head Torx Screws
Related Products
Related News