Size: 26.6*23.2*8.8mm
Material: Housing: PA66 VO + GF BLACK ROHS Contact: C2680, Finish: Tin Plated
Eletric: Contact Resisitance: 30 MILLIOHMS MAX. Insulation Resistance: 1000 MEGA OHMS MIN. Dielectric Voltage: 500V AC ONR SES Level. Operating Temperature: -55°C to 105°C
Two designs for holding 1 pc battery and 2 pc battery separately. Users can make options for different using.
Specifications of CR2032-7 Battery Holders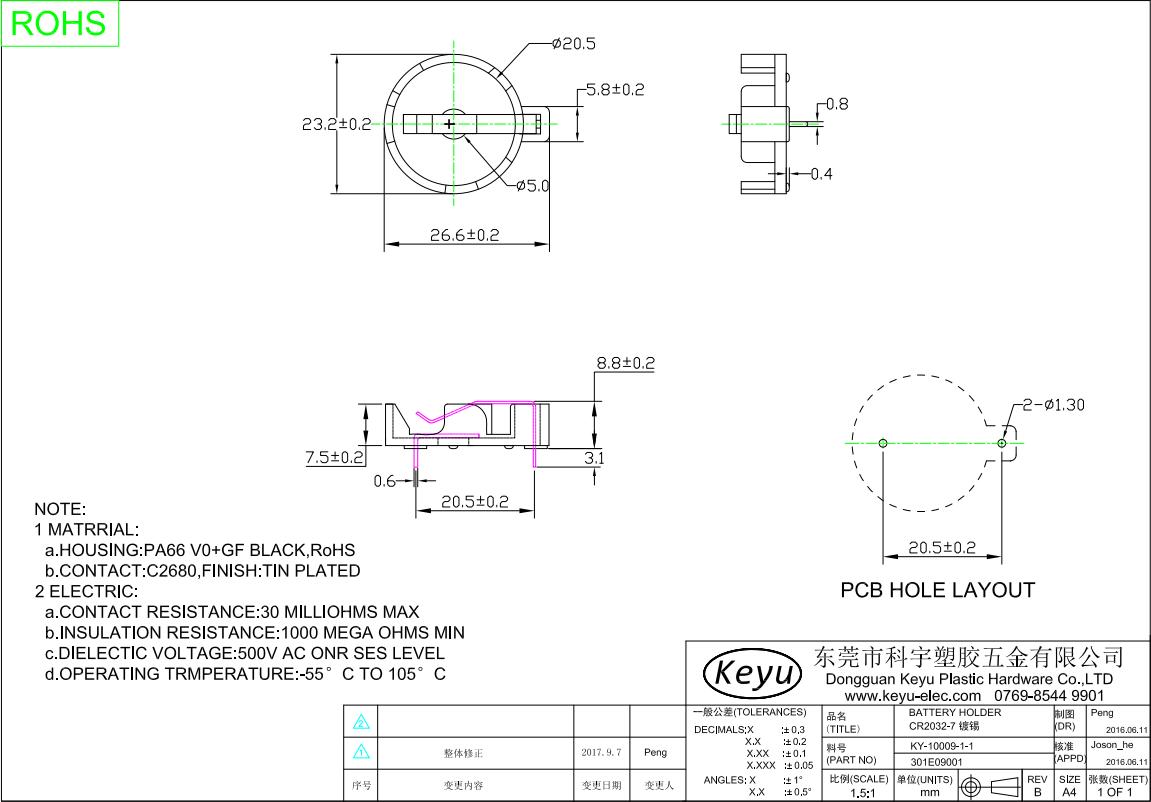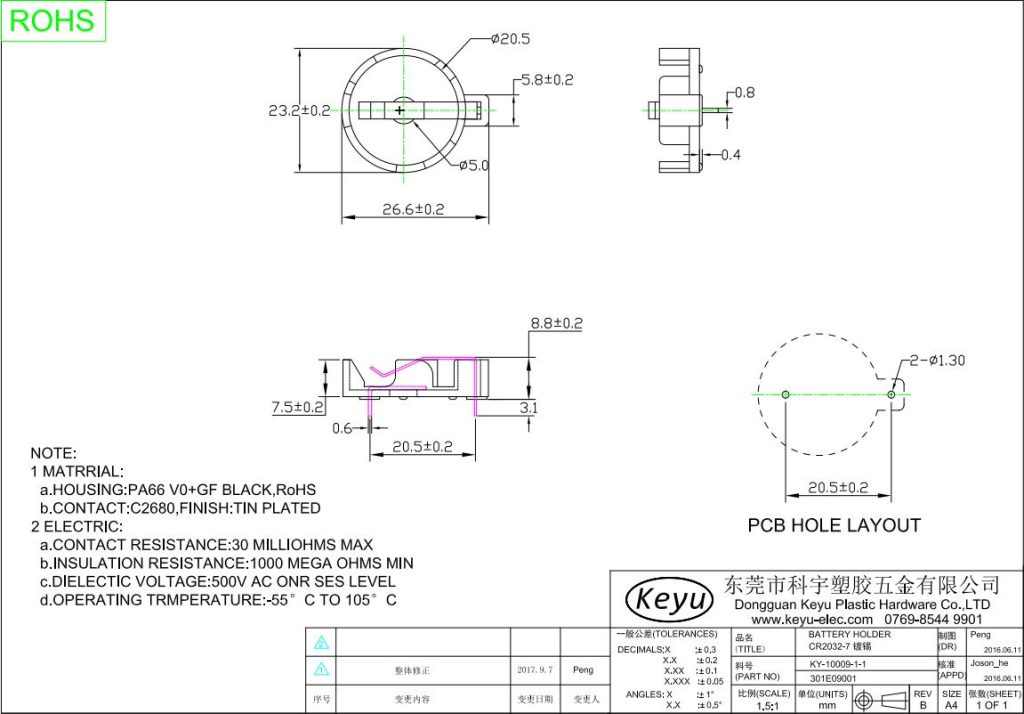 Application Fileds Of CR2032-7 Battery Holders
The button battery holder is a small round battery holder, named after the appearance of the battery that is very similar to the button.
Button battery cases have many common uses in daily life. They can provide stable and long-lasting power support for these devices in watches, alarm clocks, toys, remote controls, and various electronic gifts.
Button battery holder also have important applications in the medical field. In medical devices, button batteries are often used in devices such as pacemakers, blood glucose meters, and blood pressure monitors. These devices have high requirements for power supply and require a battery that can provide continuous and stable energy, and button batteries precisely meet this demand. The stability and reliability of button batteries make them the preferred battery in medical devices.
Button battery holders are also widely used in various small lighting fixtures. For example, flashlights, headlights, night lights, and other small lighting devices typically use button batteries as a source of power. The compact size of button batteries makes them easy to carry and replace, while also providing long-lasting lighting, making them very suitable for the needs of these small lighting devices.
Button batteries also play an important role in some special fields. For example, in devices such as electronic watches and calculators, the high energy density and long lifespan of button batteries make them an irreplaceable power source. Button batteries also play an important role in wireless remote control devices such as car remote controllers and wireless doorbells.
Manufacturing Process Of CR2032-7 Battery Holders
Plastic mold opening – making plastic holder – outsourcing customized USB connector and wire – painting and coloring.

Making metal terminals, springs and screws — electroplating (the spring is nickel plated wire, the terminals are nickel plated, and the screws are galvanized).

Assembly.
Why Choose KENENG As a Trustworthy Supplier of CR2032-7 Battery Holders
1. Excellent foreign trade team, working closely with Fortune 500 enterprises.
We integrates R&D, production and sales together, professional production, strict quality control, and strict testing before delivering each product.
2. A strong technical team and professional technicians.
We have experienced technical staff and professional R&D team, who are conscientious and conscientious in producing every product.
3. Every customer can get free samples.
All customers who call, provide the drawing or visit our company can get free samples. There are many types of samples for customers to choose and customize the design according to their needs.
4. The product has high performance and reasonable price.
We do not earn money at the expense of quality, and we will provide every customer with the most affordable price under the premise of ensuring quality.
5. The delivery cycle is short, and the delivery time is not delayed.
Conventional products should be delivered within 7-10 days after placing order, and the delivery date should not be delayed.
6. Perfect after-sales service.
Let customers have no worries and rest assured throughout the whole process. We will solve your problems the first time.
Related Products
Related News