Shaft Retaining Rings (External Circlips)
Specification of Shaft Retaining Rings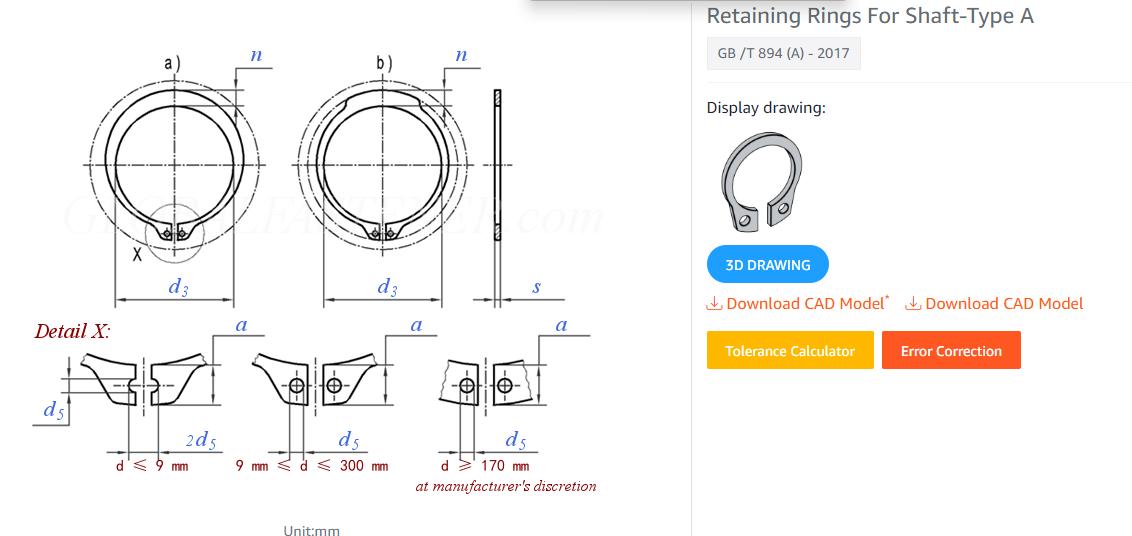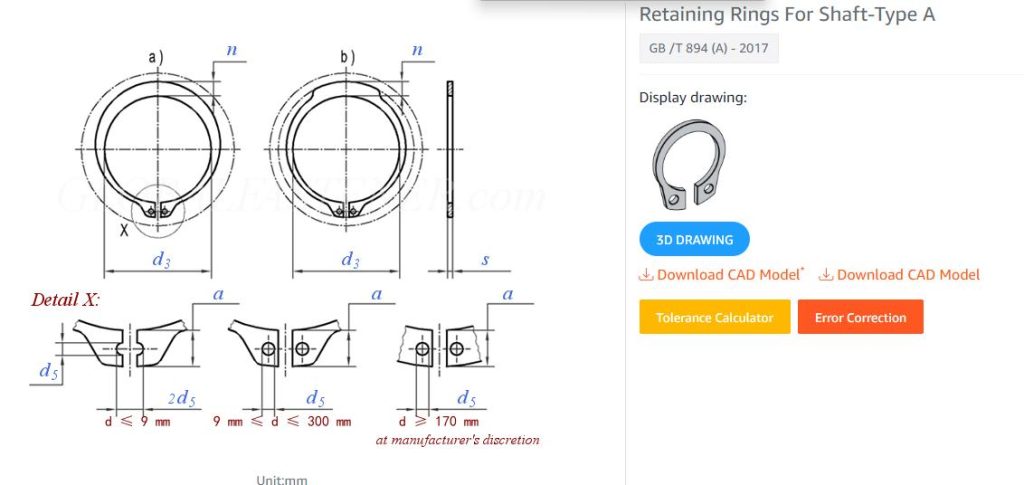 Size

3

4

5

6

7

8

9

10

11

12

13

14

15

16

17

S

max

0.4

0.4

0.6

0.7

0.8

0.8

1

1

1

1

1

1

1

1

1

min

0.35

0.35

0.55

0.65

0.75

0.75

0.94

0.94

0.94

0.94

0.94

0.94

0.94

0.94

0.94

d3

Nominal Size

2.7

3.7

4.7

5.6

6.5

7.4

8.4

9.3

10.2

11

11.9

12.9

13.8

14.7

15.7

max

2.74

3.74

4.74

5.64

6.56

7.46

8.46

9.4

10.3

11.1

12

13

13.9

14.8

15.8

min

2.55

3.55

4.55

5.45

6.32

7.22

8.22

8.94

9.84

10.64

11.54

12.54

13.44

14.34

15.34

a

max

1.9

2.2

2.5

2.7

3.1

3.2

3.3

3.3

3.3

3.3

3.4

3.5

3.6

3.7

3.8

n

≈

0.8

0.9

1.1

1.3

1.4

1.5

1.7

1.8

1.8

1.8

2

2.1

2.2

2.2

2.3

d5

min

1

1

1

1.2

1.2

1.2

1.2

1.5

1.5

1.7

1.7

1.7

1.7

1.7

1.7

Installation tool specification

1

1

1

1

1

1

1

1.5

1.5

1.5

1.5

1.5

1.5

1.5

1.5

per 1000 units ≈kg

0.017

0.022

0.066

0.084

0.121

0.158

0.3

0.34

0.41

0.5

0.53

0.64

0.67

0.7

0.82
Size
18
19
20
21
22
24
25
26
28
29
30
32
34
35
36
S
max
1.2
1.2
1.2
1.2
1.2
1.2
1.2
1.2
1.5
1.5
1.5
1.5
1.5
1.5
1.75
min
1.14
1.14
1.14
1.14
1.14
1.14
1.14
1.14
1.44
1.44
1.44
1.44
1.44
1.44
1.69
d3
Nominal Size
16.5
17.5
18.5
19.5
20.5
22.2
23.2
24.2
25.9
26.9
27.9
29.6
31.5
32.2
33.2
max
16.6
17.6
18.63
19.63
20.63
22.41
23.41
24.41
26.11
27.11
28.11
29.85
31.75
32.45
33.45
min
16.14
17.14
18.08
19.08
20.08
21.78
22.78
23.78
25.48
26.48
27.48
29.1
31
31.7
32.7
a
max
3.9
3.9
4
4.1
4.2
4.4
4.4
4.5
4.7
4.8
5
5.2
5.4
5.6
5.6
n
≈

2.4
2.5
2.6
2.7
2.8
3
3
3.1
3.2
3.4
3.5
3.6
3.8
3.9
4
ds
min
2
2
2
2
2
2
2
2
2
2
2
2.5
2.5
2.5
2.5
Installation tool specification
1.5
2
2
2
2
2
2
2
2
2
2
2.5
2.5
2.5
2.5
per 1000 units ≈kg
1.11
1.22
1.3
1.42
1.5
1.77
1.9
1.96
2.92
3.2
3.31
3.54
3.8
4
5
Size
38
40
42
45
48
50
52
55
56
58
60
62
63
65
68
S
max
1.75
1.75
1.75
1.75
1.75
2
2
2
2
2
2
2
2
2.5
2.5
min
1.69
1.69
1.69
1.69
1.69
1.93
1.93
1.93
1.93
1.93
1.93
1.93
1.93
2.43
2.43
d3
Nominal Size
35.2
36.5
38.5
41.5
44.5
45.8
47.8
50.8
51.8
53.8
55.8
57.8
58.8
60.8
63.5
max
35.45
36.89
38.89
41.89
44.89
46.19
48.19
51.26
52.26
54.26
56.26
58.26
59.26
61.26
63.96
min
34.7
35.6
37.6
40.6
43.6
44.9
46.9
49.7
50.7
52.7
54.7
56.7
57.7
59.7
62.4
a
max
5.8
6
6.5
6.7
6.9
6.9
7
7.2
7.3
7.3
7.4
7.5
7.6
7.8
8
n
≈
4.2
4.4
4.5
4.7
5
5.1
5.2
5.4
5.5
5.6
5.8
6
6.2
6.3
6.5
ds
min
2.5
2.5
2.5
2.5
2.5
2.5
2.5
2.5
2.5
2.5
2.5
2.5
2.5
3
3
Installation tool specification
2.5
2.5
3
3
3
3
3
3
3
3
3
3
3
3
3
per 1000 units=kg
5.62
6.03
6.5
7.5
7.9
10.2
11.1
11.4
11.8
12.6
12.9
14.3
15.9
18.2
21.8
Size
70
72
75
78
80
82
85
88
90
95
100
105
110
115
120
S
max
2.5
2.5
2.5
2.5
2.5
2.5
3
3
3
3
3
4
4
4
4
min
2.43
2.43
2.43
2.43
2.43
2.43
2.92
2.92
2.92
2.92
2.92
3.9
3.9
3.9
3.9
d3
Nominal Size
65.5
67.5
70.5
73.5
74.5
76.5
79.5
82.5
84.5
89.5
94.5
98
103
108
113
max
65.96
67.96
70.96
73.96
74.96
76.96
79.96
83.04
85.04
90.04
95.04
98.54
103.54
108.54
113.54
min
64.4
66.4
69.4
72.4
73.4
75.4
78.4
81.2
83.2
88.2
93.2
96.7
101.7
106.7
111.7
a
max
8.1
8.2
8.4
8.6
8.6
8.7
8.7
8.8
8.8
9.4
9.6
9.9
10.1
10.6
11
n
≈
6.6
6.8
7
7.3
7.4
7.6
7.8
8
8.2
8.6
9
9.3
9.6
9.8
10.2
ds
min
3
3
3
3
3
3
3.5
3.5
3.5
3.5
3.5
3.5
3.5
3.5
3.5
Installation tool specification
3
3
3
3
3
3
3
3
3
3
3
3
4
4
4
per 1000 units ≈kg
22
22.5
24.6
26.2
27.3
31.2
36.4
41.2
44.5
49
53.7
80
82
84
86
Size
125
130
135
140
145
150
155
160
165
170
175
180
185
190
195
S
max
4
4
4
4
4
4
4
4
4
4
4
4
4
4
4
min
3.9
3.9
3.9
3.9
3.9
3.9
3.9
3.9
3.9
3.9
3.9
3.9
3.9
3.9
3.9
d3
Nominal Size
118
123
128
133
138
142
146
151
155.5
160.5
165.5
170.5
175.5
180.5
185.5
max
118.54
123.63
128.63
133.63
138.63
142.63
146.63
151.63
156.13
161.13
166.13
171.13
176.13
181.22
186.22
min
116.7
121.5
126.5
131.5
136.5
140.5
144.5
149.5
154
159
164
169
174
178.8
183.8
a
max
11.4
11.6
11.8
12
12.2
13
13
13.3
13.5
13.5
13.5
14.2
14.2
14.2
14.2
n
≈
10.4
10.7
11
11.2
11.5
11.8
12
12.2
12.5
12.9
13.5
13.5
14
14
14
d5
min
4
4
4
4
4
4
4
4
4
4
4
4
4
4
4
Installation tool specification
4
4
4
4
4
4
4
4
4
4
4
4
4
4
4
per 1000 units ≈ kg
90
100
104
110
115
120
135
150
160
170
180
190
200
210
220
Size
200
210
220
230
240
250
260
270
280
290
300
S
max
4
5
5
5
5
5
5
5
5
5
5
min
3.9
4.88
4.88
4.88
4.88
4.88
4.88
4.88
4.88
4.88
4.88
d3
Nominal Size
190.5
198
208
218
228
238
245
255
265
275
285
max
191.22
198.72
208.72
218.72
228.72
238.72
245.72
255.81
265.81
275.81
285.81
min
188.8
196.3
206.3
216.3
226.3
236.3
243.3
253
263
273
283
a
max
14.2
14.2
14.2
14.2
14.2
14.2
16.2
16.2
16.2
16.2
16.2
n
≈
14
14
14
14
14
14
16
16
16
16
16
d5
min
4
4
4
4
4
4
5
5
5
5
5
Installation tool specification
4
/
/
/
/
/
/
/
/
/
/
per 1000 units ≈kg
230
248
265
290
310
335
355
375
398
418
440
Functions of Shaft Retaining Rings
The shaft retaining rings are a kind of mounting on the groove shaft, used as a fixing part of the hole movement, the inner diameter of this kind of retaining ring is slightly smaller than the assembly shaft diameter.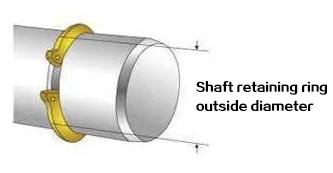 Installation Methods of Shaft Retaining Rings
With the circlip pliers, insert the plier's nozzle into the plier's hole of the stop ring, expand the stop ring, and put the stop ring into the pre-processed shaft groove.
Advantages of KENENG Shaft Retaining Rings
High tensile, the hardness and elasticity of qualified.

The surface is flat, with standard pliers holes.

No burrs in the corner.
Materials we can use on Shaft Retaining Rings
Related Products
Related News