Functions of T-slot Nuts
T-slot nuts, also known as T nuts, are used to secure workpieces or fixtures to the T-slot bed of a machine tool. The T-shaped design allows them to be inserted into the T-slot and tightened down using a bolt or screw, providing a secure hold for the workpiece or fixture. They are commonly used for milling machines, drill presses, and other types of machine tools.
Specifications of T-slot Nuts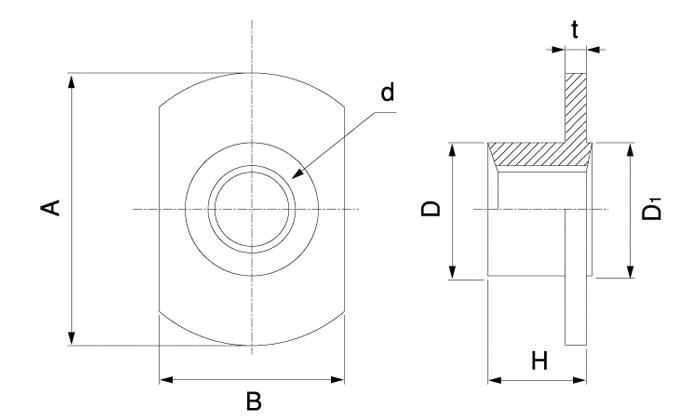 Nominal Diameter


(d)

Pitch
A
B
D
H
t
M4
0.7
23
12
5.4
6
1.2
M5
0.8
24
12
6.2
7
1.2
M6
1
26
14
7.8
8
1.6
M8
1.25
28
14
9.5
10
1.6
M10
1.5
32
19
12.5
11.5
2
Why Choose KENENG As Your T-slot Nuts Supplier
KENENG produces a wide range of products at reasonable prices, and ensures product quality.
KENENG can produce fasteners including screws, studs, nuts, flat washers and rivets of various specifications. Various non-standard CNC parts, stamping parts, injection molding parts, nylon screws, nylon nuts, nylon studs, etc.
Order process of Stamping part: Receive CAD or 3D design → Quotation → Signing Pi → Receive dispose → Make product → Open molding → Trial production → Mass production → Receive Balance → Delivery
Application industries of T-slot Nuts
Related Products
Related News