Tailless Wire Thread Insert
Specifications of Tailless Wire Thread Insert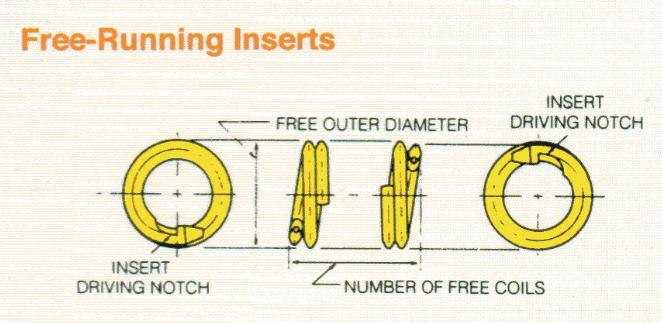 | | | | |
| --- | --- | --- | --- |
| Size | M(nominal) | Nominal length(mm) | pitch |
| M2.5*0.45*1d | M2.5 | 1d | 0.45 |
| M2.5*0.45*1.5d | M2.5 | 1.5d | 0.45 |
| M2.5*0.45*2d | M2.5 | 2d | 0.45 |
| M2.5*0.45*2.5d | M2.5 | 2.5d | 0.45 |
| M2.5*0.45*3d | M2.5 | 1d | 0.45 |
| M3*0.5*1d | M3 | 1d | 0.5 |
| M3*0.5*1.5d | M3 | 1.5d | 0.5 |
| M3*0.5*2d | M3 | 2d | 0.5 |
| M3*0.5*2.5d | M3 | 2d | 0.5 |
| M4*0.7*1d | M4 | 1d | 0.7 |
| M4*0.7*1.5d | M4 | 1.5d | 0.7 |
| M4*0.7*2d | M4 | 2d | 0.7 |
| M4*0.7*2.5d | M4 | 2.5d | 0.7 |
| M4*0.7*3d | M4 | 3d | 0.7 |
| M5*0.8*1d | M5 | 1d | 0.8 |
| M5*0.8*1.5d | M5 | 1.5d | 0.8 |
| M5*0.8*2d | M5 | 2d | 0.8 |
| M5*0.8*2.5d | M5 | 2.5d | 0.8 |
| M5*0.8*3d | M5 | 3d | 0.8 |
| M6*1.0*1d | M6 | 1d | 1 |
| M6*1.0*1.5d | M6 | 1.5d | 1 |
| M6*1.0*2d | M6 | 2d | 1 |
| M6*1.0*2.5d | M6 | 2.5d | 1 |
| M6*1.0*3d | M6 | 3d | 1 |
| M8*1.25*1d | M8 | 1d | 1.25 |
| M8*1.25*1.5d | M8 | 1.5d | 1.25 |
| M8*1.25*2d | M8 | 2d | 1.25 |
| M8*1.25*2.5d | M8 | 2.5d | 1.25 |
| M8*1.25*3d | M8 | 3d | 1.25 |
| M10*1.5*1d | M10 | 1d | 1.5 |
| M10*1.5*1.5d | M10 | 1.5d | 1.5 |
| M10*1.5*2d | M10 | 1.5d | 1.5 |
| M10*1.5*2.5d | M10 | 2.5d | 1.5 |
| M10*1.5*3d | M10 | 3d | 1.5 |
| M12*1.75*1d | M12 | 1d | 1.75 |
| M12*1.75*1.5d | M12 | 1.5d | 1.75 |
| M12*1.75*2d | M12 | 2d | 1.75 |
| M12*1.75*2.5d | M12 | 3d | 1.75 |
| M12*1.75*3d | M12 | 22 | 1.75 |
Advantages of KENENG Tailless Wire Thread Insert
1, Without installation tail handle design, can be installed quickly.
2, The tailless screw sleeve has no direction and is easy to operate.
3, Wide range of applications, both metal and non-metal materials can be used.
4, It can help to enhance the wear resistance, heat resistance and anti-corrosion performance of the internal thread of the screw hole.
Application industries of Tailless Wire Thread Insert
Related Products
Related News