Specifications of Custom Brass Eyelet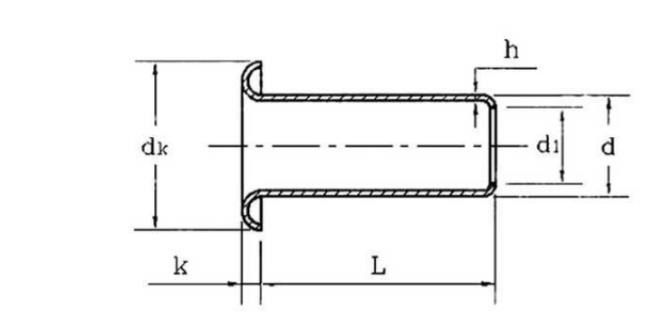 | | | | | | | | | | | | |
| --- | --- | --- | --- | --- | --- | --- | --- | --- | --- | --- | --- |
| nominal | d | | | | dk | | k | | d1 | h | |
| (mm) | max | min | | | max | min | max | min | min | | |
| 1.4 | 1.53 | 1.27 | | | 2.6 | 2.35 | 0.5 | 0.3 | 0.8 | 0.2 | |
| 1.6 | 1.73 | 1.47 | | | 2.8 | 2.55 | 0.5 | 0.3 | 0.9 | 0.22 | |
| 2 | 2.13 | 1.87 | | | 3.5 | 3.2 | 0.6 | 0.4 | 1.2 | 0.25 | |
| 2.5 | 2.63 | 2.37 | | | 4 | 3.7 | 0.6 | 0.4 | 1.7 | 0.25 | |
| 3 | 3.13 | 2.87 | | | 5 | 4.7 | 0.7 | 0.5 | 2 | 0.3 | |
| 3.5 | 3.65 | 3.35 | | | 5.5 | 5.2 | 0.7 | 0.5 | 2.5 | 0.3 | |
| 4 | 4.15 | 3.85 | | | 6 | 5.7 | 0.82 | 0.58 | 2.9 | 0.35 | |
| 5 | 5.15 | 4.85 | | | 8 | 7.64 | 1.12 | 0.88 | 4 | 0.35 | |
| 6 | 6.15 | 5.85 | | | 10 | 9.64 | 1.12 | 0.88 | 5 | 0.35 | |
Customized Brass Eyelet
With the sample or drawing provided by our customers, we can study and produce the high quality product with a reasonable price.
Advantages Of Brass Eyelet
1. Brass material with a high strength feature, can maintain a stable structure during application.
2. With good toughness, and brass hollow rivets are not easy to be deformed and damaged under the influence of external force during application, have a long service life.
3. Brass eyelet with good ductility, thermal conductivity, electrical conductivity, and diamagnetism.
Materials we can use on Custom Brass Eyelet
Related Products
Related News