Single AA battery holder (contact pin)
Single AA battery holder can hold one AA ordinary battery or rechargeable battery. Ordinary batteries can output 1.5V voltage, while rechargeable batteries can output 1.2V voltage, which can be used as power supply for SCM system, Arduino system, other intelligent cars, tracking cars, etc.
Keyu brand Single AA battery holder is made of high quality materials, combined with advanced production equipment and strict quality control, for you to produce 100% good products.
Contact US
For product pricing, customization, or other inquiries:
Product Parameter (Specification)
| | |
| --- | --- |
| Product name | Single AA battery holder(contact pin) |
| Type | Cylindrial battery holder |
| Model No. | KY-32001-2-1 |
| Material | PP Resin + Spring Steel Nickel plated |
| Size | 57.5*16.9*14mm |
| Rating | 1.5V |
| Color | Black |
| Number of cells | 1 cell |
| Cell Arrangement | Single |
| Port | Shenzhen , Guangzhou |
| MOQ | 2000pcs |
Product Feature And Application
This SingleAAbattery holder can be make to 1.5v battery output
The opposite side is the same as the picture shown.
The perfect external power source for electronic DIY.
Holds one AA battery.
Easy install, convenient to use.
High-quality plastic material.
The perfect external power source for single-chip microcomputer system, Arduino system, 2WD mobile robot, track-seeking car, RP5 tracked vehicle.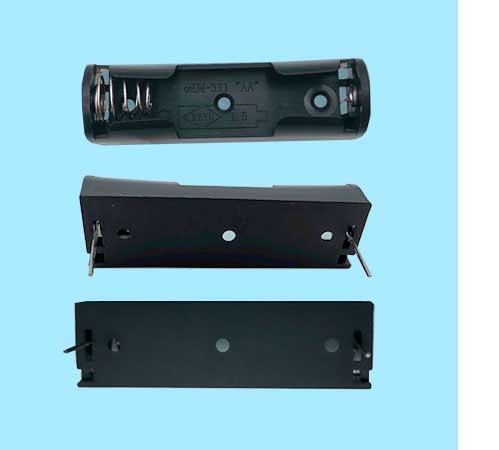 Product Details
Single AA battery holder detail:
Battery Type: Cylindrical battery holder
Place of Origin: Dongguan, China
Color: Black
Material:
Holder:PP Resin, black color 94HB; Spring: 0.6mm 65C spring steel nickel plated ;
Rivet: Brass nickle plated ; Solded lug: 0.85mm 65C spring steel nickel plated.
Product name: 1 AA battery holder
Style: Holder(open)
Mounting Type: Custom
Operating Temperature: -10-100℃
Size: 57.5mm x 16.9mm x 14mm (H=13.6mm)
Termination Style: Contact pin
Nominal Voltage: 1.5V
Product Qualification
All of our Single AA battery holder with ISO9001, ROHS, Dun & Bradstreet certifications.