Custom Aluminum Alloy Square Nut
Size: M3*10*10*6MM
Material: Aluminum Alloy
Finishing: Plain/ Anodizing
Application : Aluminum Alloy Square Nut is a part that tightly connects the two parts of the product. It can be connected together through the inner thread, nuts and screws of the same specification. The square nut needs to be pre-stuck into the profile groove when installing, and is used to connect various accessories on the profile.
Manufacturing process: CNC machining
Specifications Of Aluminum Alloy Square Nut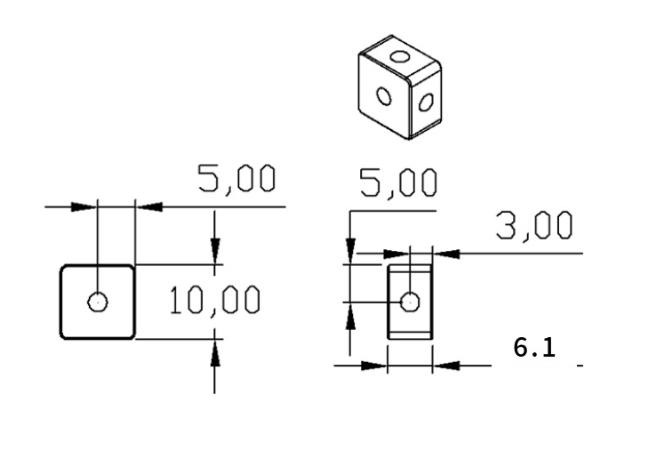 How To Customize Aluminum Alloy Square Nut
With the samples/pictures or drawings provided by customers, we can study and produce the high quality product with a reasonable price, provide you a best solution.
Advantages Of Custom Aluminum Alloy Square Nut
1. Processing equipment: CNC numerical control lathe, centering machine, turning and milling compound machine tool, automatic lathe.
2. High dimensional accuracy less than 0.02m, will meet the strict demand of our customers.
3. Features: high precision and wide application.
4. Material: Material can be optional with brass, stainless steel
Why Choose KENENG As Your Custom Aluminum Alloy Square Nut Supplier
1.KENENG has complete lathes, punches and thread rolling machines. Production and testing of parts can be carried out. We have excellent quality inspection capability: we can provide salt spray, film thickness and various inspection reports.
2.We have specialized designers and production personnel and complete production lines.
3.We produce a wide range of products at reasonable prices, and ensure product quality.
Materials We Can Use On Custom Square Machine Screw Nut
Related Products
Related News